Interested in how sociocracy can be implemented in a non-traditional school environment to help organize and solve conflicts? 
LOS is a sociocratic school located in the small village of Duerne in the south of the Netherlands. LOS stands for "Leren, Ontdekken, Spelen" – "Learn, Discover, Play". Instead of classrooms and a curriculum, LOS Deurne has functional spaces in which students and supervisors develop activities.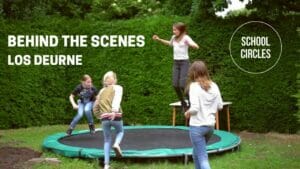 Founded in 2017 by a group of five mothers familiar with sociocracy, the school has used the dynamic governance model since its inception. While appreciating the structure and sociocratic principles, the group is comfortable with experimenting and changing structures to make it work best for their situation. Significantly, they decided not to force kids into participating in decision making circles, but rather allow them to join if interested. Excitingly, children that have been at the school for some time are now starting to take initiative and organize themselves.  The school had the most trouble implementing conflict mediation circles and has tried several different models. 
"It's not about 'whodunnit' and who gets punishment, but it's about why did the conflict occur and how can we
prevent it or solve it"  
One of the founders Mariken Althuizen enjoys sociocracy for its ability to promote open-mindedness and flexibility. Especially, how the decision making process can change your mind. If there is one major teaching she could share from sociocracy with the world, it would be to "Shut up and listen! Everyone talks, but no one listens. So listen. Listen to each other, listen to the kids, listen to everyone with their strange opinions or strange ideas." Click the button below to read the full case study and learn how LOS is using sociocracy now and going forward.