This page is also available in:

Español (Spanish)
Sociocracy and other forms of decentralized governance have received an increased level of interest in recent years. Many people are questioning the ways of command-and- control and are longing for different ways of working together.
The "self-management journey", however, is hard to travel alone. A transition to decentralized collaboration requires knowledge, skills and a mindset that many of us are just stepping into. This makes perfect sense – we're collectively leaving behind the command-and-control culture we have been accustomed with, without really knowing what the new ways look like.
Leaders and people who implement sociocracy on their own are often lonely and in need of exchange and more learning, together with some coaching and "hand-holding". 
"This was the most immersive, intensive educational experience outside of school that has helped me grow."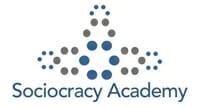 Learning
100+ hours of online classes a year.
A selection of topics: meeting facilitation, integrating objections, role descriptions, designing circle structures, teaching 1-day sociocracy classes, complex selections, typical issues in implementations.

Exclusive conversations with experienced practitioners

Scheduling: core classes are offered several times for different time zones

All classes are recorded

Ca. 10h/month
Peer groups
Several communities of practice
For the first 3 months, peer groups are guided by SoFA staff

For the later 9 months, learning groups are self-organized and supported by the Academy

Form learning groups with peer learners for companionship, shared learning and practice. Badge work can be completed with a learning group.

Scheduling: several options with guided groups; flexible scheduling with self-organized groups

Ca. 8h/month
Mentoring
A customized learning path
An experienced mentor to support your sociocracy journey

Support for your implementation or teaching practice as well as personal growth

The Academy has established contact with more than 10 mentors.

Get support on your writing practice.

Scheduling: flexible scheduling

Ca. 2h/month
Deadline
Deadline to apply: Jan 7, 2021
The 2021 Academy start on Jan 30 and will be open for 12 months. 
Requirements
good knowledge of sociocracy and

willingness to experiment as a co-player.
Application
In a 30 min video call, we will determine whether you have enough experience and you can ask your questions and decide whether this program works for you. We will also determine your tuition based on your situation. 
A decision is made by consent from you and us. 
The ideal learner is someone who has done introductory and possibly intermediate training in sociocracy and wants to step up their game, either in implementing and using sociocracy, or as a trainer and consultant. Typical participants are social change agents, consultants or trainers, from all over the world. 
The Academy is particularly useful for people
introducing sociocracy (or parts of it) in their own organization AND/OR
introducing sociocracy (or parts of it) in other organizations.
We estimate that the market value of a year of training of this quality is about $6,000 per year. Sociocracy For All's mission is to make sociocracy affordable to anyone. To us, this means that everyone pays what they can, depending on their individual situation. Everyone will need to stretch a little to make it work, just as the Academy staff is striving to put on amazing learning opportunities. The final decision on your individual tuition will be made in a consent decision with our enrollment coordinator in a video call.
The enrollment coordinator will work with these guidelines:
for profits/consultants

5,000 per year. (Installments possible.)

non-profit and cooperatives

$2,500 per year. (Installments possible.)

Individuals

$500-1500 per year
(for community fundraiser see below)
Badges are an acknowledgment of real world skills and a learning map that you can use them for self-motivation and monitoring your learning.
You receive a badge after you have acquired, practiced and demonstrated a skill. This could, for example, be to facilitate a selection process in different contexts (with multiple roles, online, in person etc). The badge is defined by a description of the skill and the measurement of the skill acquired (depending on the skill, this can be self-evaluation forms, evaluation forms from the people attending, e.g. participants in your selection process, or evaluation by an observer).
In 2021, the first 11 badges (for practitioner level) will be achieved together. Later, the participant's peers will review the evaluations and issue the badge.
The full description of badges and checklists are available in this document.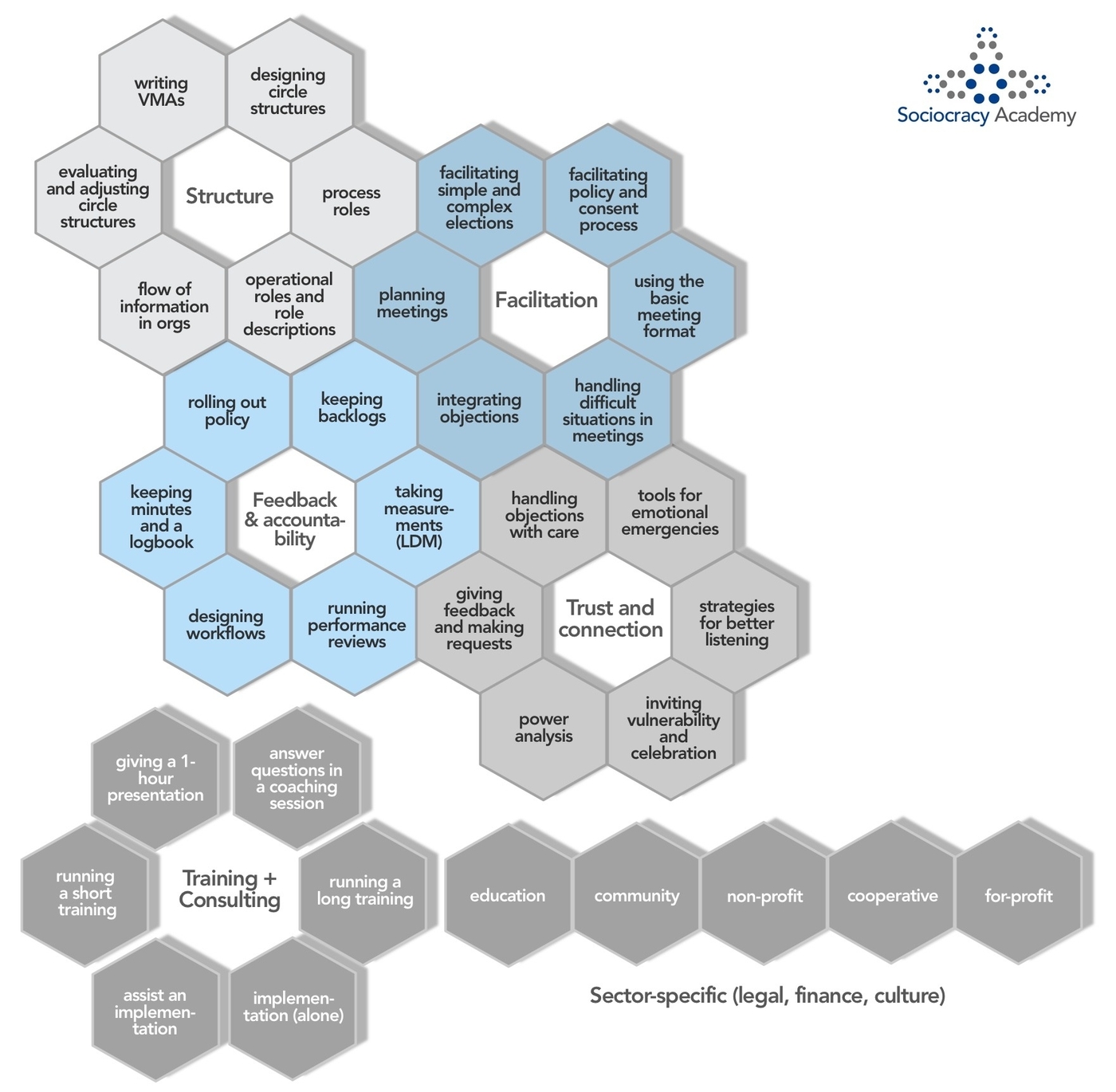 How is the Academy Organized?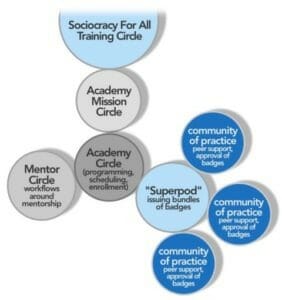 The Academy is organized entirely sociocratically with staff and with a voice for each stakeholder – including students and coaches.
Badges are approved by the Communities practice – the group of peers. The "Superpod" makes decisions about bundles of badges. That way, it the people who learn together and know each other well who make the relevant decisions with each other.
All circles are double-linked: that means that members of each community of practice form the "superpod". Someone from the Academy Circle attends meetings of the Superpod (with consent rights), and someone from the Superpod attends Academy Circle meetings. The same pattern of mutual influence and shared decision-making applies everywhere else: students' and mentors run their own domain and can co-create how the Academy is run, with full transparency and open feedback lines about policy, budgeting and all other matters.
To those with only theoretical experience in self-management, even just being part of the structure of the Academy will be a learning experience in itself!
I want to implement sociocracy in my organization. How will this help me?
In our most preferred model of introducing sociocracy in an organization, a few key people in the organization are trained deeply and are able to support and maintain the implementation in the organization. They are experts and trainers at the same time. You will know to run sociocratically. You will learn how to interact with the people who struggle with concepts of self-management, you will learn to spot typical issues in implementations and you will be able to support  facilitators in your organization. For your support, you will also have your mentor who will help you think through your role in the transition and next steps towards a successful implementation, plus the peer support to hear other people's perspective. Self-management can't be introduced by an outside consultant — but having companionship and access to support along the way makes it much easier.
This approach also pays off financially. Paying a trainer to train all your staff in a 3-day workshop typically costs about $2,500 plus travel, and ongoing coaching to implement and course-correct easily costs another $2,500 per year. With a "homegrown" expert that is trained well and connected in the Academy, you can have ongoing support by someone who knows your organization well for about the same amount.
I want to become a (better) sociocracy trainer. How does this help me?
Whether you are giving workshops yet or not, the Academy provides plenty of opportunity to grow. You can deepen your conceptual understanding of sociocracy in workshows, exchange training designs with your peers, talk through your personal growth as a trainer with your coach.
The mentors available in the Academy have taught sociocracy for years and can help you become an effective trainer.
If teaching is your focus and you are already a skilled facilitator, you can get confirmation of your skills by documenting your expertise with badges, while getting useful feedback on the way and building a solid and credible portfolio to advertise your training.
What are online classes about?
Example topics for online classes
Advanced facilitation, with practice

Integrating objections

Power Analysis

Implementing sociocracy in business/communities/cooperatives

Sociocracy in schools – what's there to learn?

Reflective listening and NVC for meeting facilitation

Performance reviews

How to define operational roles (role descriptions)

Meeting agendas for progress in your circle

Leadership and self-management

Generating proposals
The duration/frequency of each workshop depends on the topic and ranges between a 3-12 hours.
Note: we are aware that other commitments might make it impossible to attend every workshop. Basic workshops are repeated on a regular basis (and offered in different time zones and different bilingual support). Specific events are always recorded and transcribed.
Where will I document my learnings?
The core piece of work is reflected in the journal of every participant.
The journal lives in the cloud and is maintained by the participant (in English, Spanish or German). Mentor and peers from the pod will read and comment in some sections of the journal. It includes:
20 short essays on foundational knowledge of sociocracy

Documentations of the badges earned

Ideas and reflections/documentation of conversations with the mentor
You can see a sample document.