Language: Português
Are you in a sociocratic organization? Get all the support you need in one package!
What are Organizational Learners?
Sociocracy for All's Organizational Learners Program gives sociocratic organizations access to discounts, community, and implementation support. With a small annual payment, organizations receive discounts on trainings, workshops, live classes, custom classes, conference tickets, coaching, and books. On top of discounted event access, members of the Organizational Learners Program are able to participate in Sociocracy for All's Communities of Practice and members online forum. Organizations and members of the organization receive ongoing support via announcements about relevant upcoming events at Sociocracy for All and activities within your organization's sector.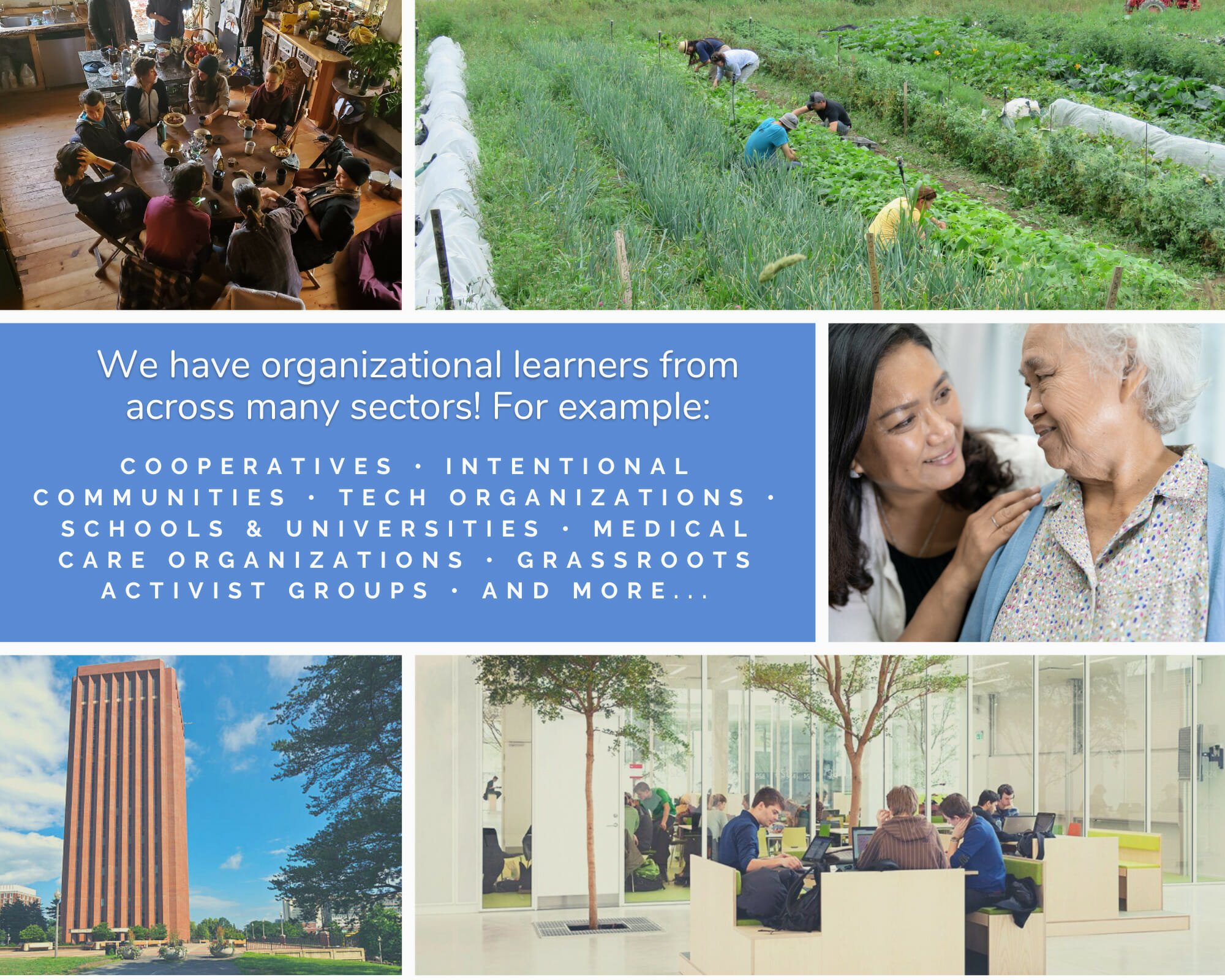 How does it work?
1. You talk with your organization about the Organizational Learners Program and decide together to become part of.
2. You reach out to the Organizational Learners Administrator at [email protected] or use the button below to schedule your discovery call to ask questions and discuss the details of the organizational learners program.
3. The Organizational Learners Administrator will answer your questions and share the link where you will submit a small annual Organizational Learners fee ($150+ depending on organization size) to become an Organizational Learner.
4. You receive a welcome email with an explanation of benefits and a set of
coupon codes unique to your organization to enter for discounts on eligible products on the Sociocracy for All website (see table of discounts below).
5. You and your organization members become a part of the SoFA community and can sign up for training using your unique coupon codes, begin attending Communities of Practice, and participating in discussions on the online forums.
Packages and Benefits
Your community members can get a variety of trainings and resources with Sociocracy For All at a discounted rate.
What does it cost?
Organizational Learners program fees are sliding scale based on organization size/revenue.
For example, if your organization has an annual revenue up to $50,000 the contribution is something between $350 to $550 for the Full package and between $150 to $250 for the Slim package
Example of potential savings within first two years of Organizational Learners Program:
Year One Membership
Custom beginner class for everyone in your organization:
Value: $900
You pay: $810
Savings 25%: $75
6 people in your organization take a facilitation class:
Value: $600
Your members pay: $315 ($52.50/each)
Savings 25%: $75
6 copies of Many Voices One Song  for members of your organization:
Value: $192 (plus shipping)
You pay: $96 (plus shipping)
Savings 25%: $75
Year Two Membership
6 people in your organization purchase conference tickets
Value: $300
Your members pay: $225 ($37.50 each)
Savings 25%: $75
2 groups in Non-Violent Communication Empowered Learning Circles
Value: $240
You pay: $180
Savings 25%: $60
5 new members take beginner class
Value $500
Your members pay: $262.50 ($52.50 each)
Savings: $237.50
Get in touch with us!
If you are a part of any organization that is not an intentional community, use the button below to schedule a discovery zoom call with our Organizational Learners Administrator to determine if SoFA's organizational learners program is a good fit for your organization!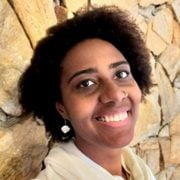 Intentional Communities
If you are part of an intentional community, please use the button below to schedule a discovery zoom call with our Intentional Communities Organizational Learners Administrator to determine if SoFA's organizational learners program is a good fit for your organization!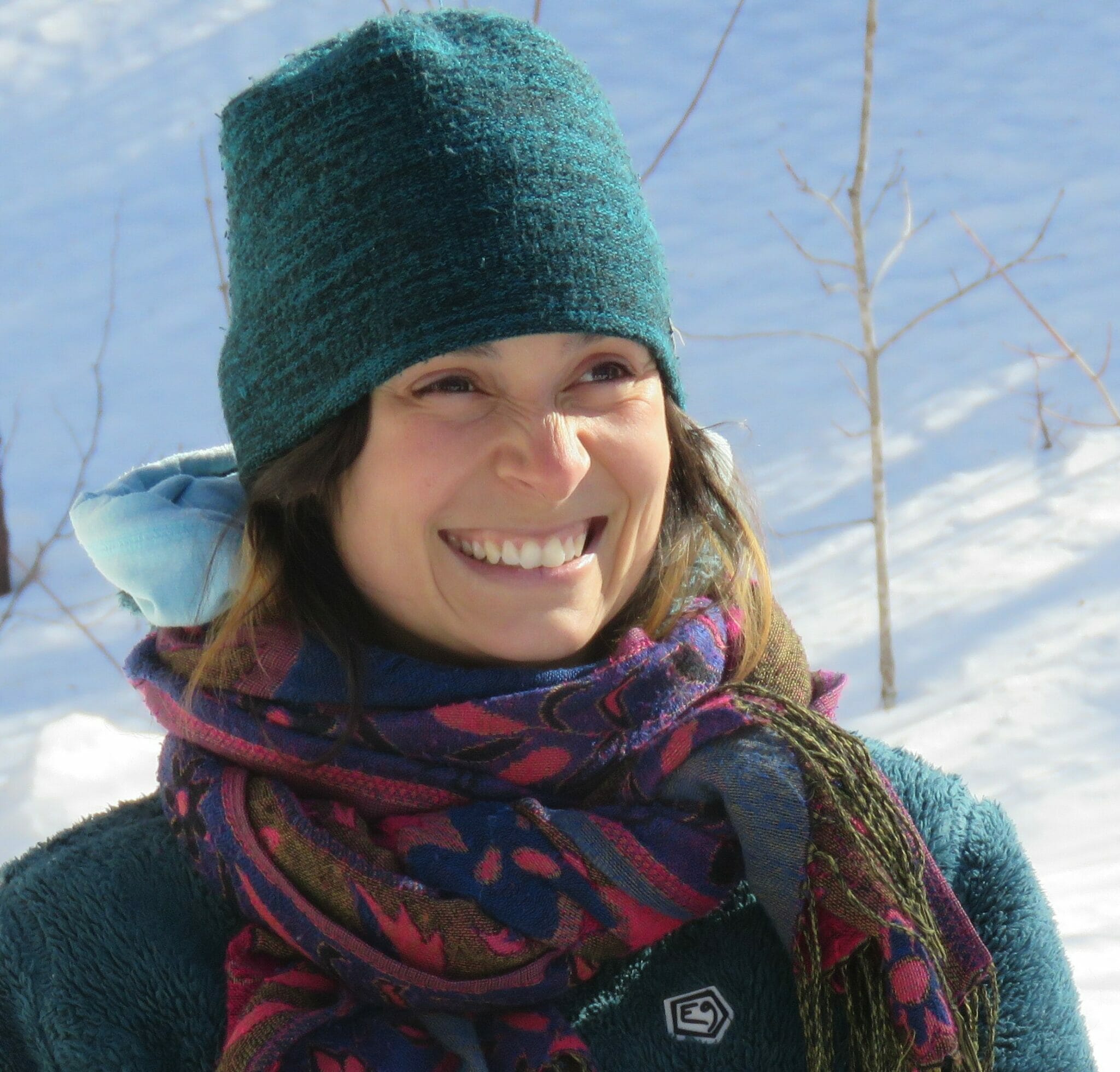 We know every organization is unique, and we are happy to help you learn sociocracy! If the suggested price points are out of range for your organization and you would like to discuss pricing options, please contact [email protected].
Get started using your organizational learners benefits! Check out the discounted products and services below.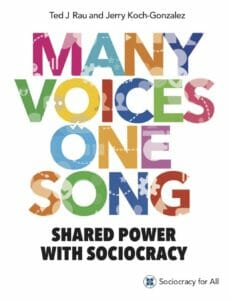 Many Voices One Song by  Jerry Koch-Gonzalez and Ted Rau
Who Decides Who Decides by Ted Rau
Let's Decide Together by Hope Wilder
Organizational learners receive 50% off on all book purchases through SoFA.
We offer coaching and sociocracy consulting for organizational transformations through our network and with our staff sociocracy consultants. We offer just the level of hand-holding you want.  Coaching and custom classes are 10% off for organizational learners.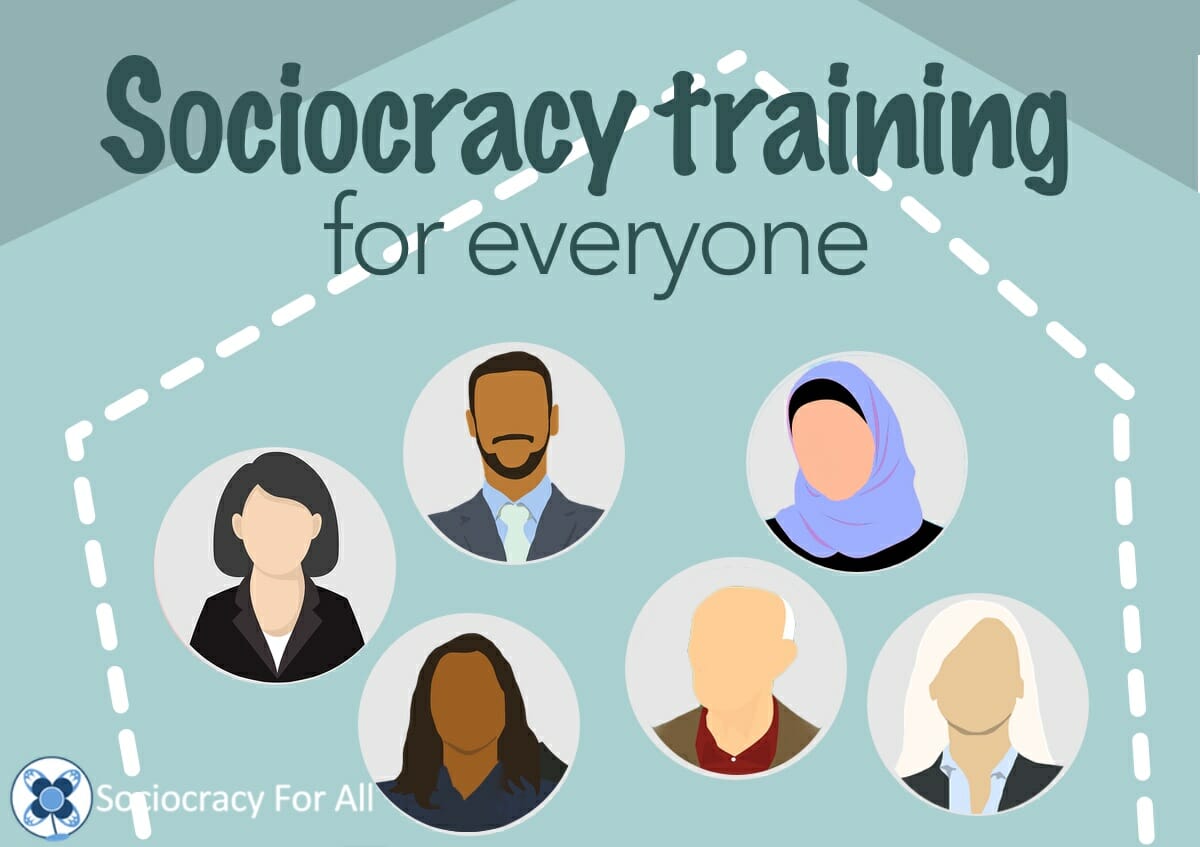 Our training philosophy is that skills are the key to making sociocracy work. Knowing about sociocracy is one thing but being able to make real-life improvements to our decision-making, team structure and meetings is key to positive change. That's why we offer our organizational learners 25% off for workshops and live trainings!