A simple formula for clearer agendas to shorten meetings
It bothers me when a meeting that could be short and quick drags on and wastes my time. If I could change one thing to improve meetings, it would be this: for every agenda item, be clear to what end you're talking about an issue. Why are you bringing this topic to the group?
Meeting time is precious, so it's a matter of respect to be clear about our intentions first. And the good news is there's a framework that makes this easy.
The framework
There are precisely three distinct categories of agenda items:
They each serve a different purpose.
1. Reports
2. Explorations
3. Decisions
Agenda items for quick meetings
For meetings that I attend, I ask for each item what kind of agenda item it is. Is it a report, an exploration, or a decision? That way, I know why we're talking about something, and what's expected from me. Am I just supposed to listen and take it in? Am I asked to give reactions or ideas? Or does this require my buy-in? Knowing what my role in the meeting is gives me clarity on how to participate. Meetings without this basic structure can feel pointless, but if the purpose of agenda items is clear, I can relax and enjoy the meeting.
Easier to facilitate, quicker to act
It's also much easier to facilitate when these building blocks are clear. There's some additional magic here: the three building blocks nest in a fractal way. (To make it easier to understand, I'll rename "reports" into "understand" as that's its function.)
Whenever we have an exploration, we actually have two parts, the understanding phase, and the exploration stage. The understanding phase is, for example, where someone describes the idea or the issue that they want to hear the group's input on.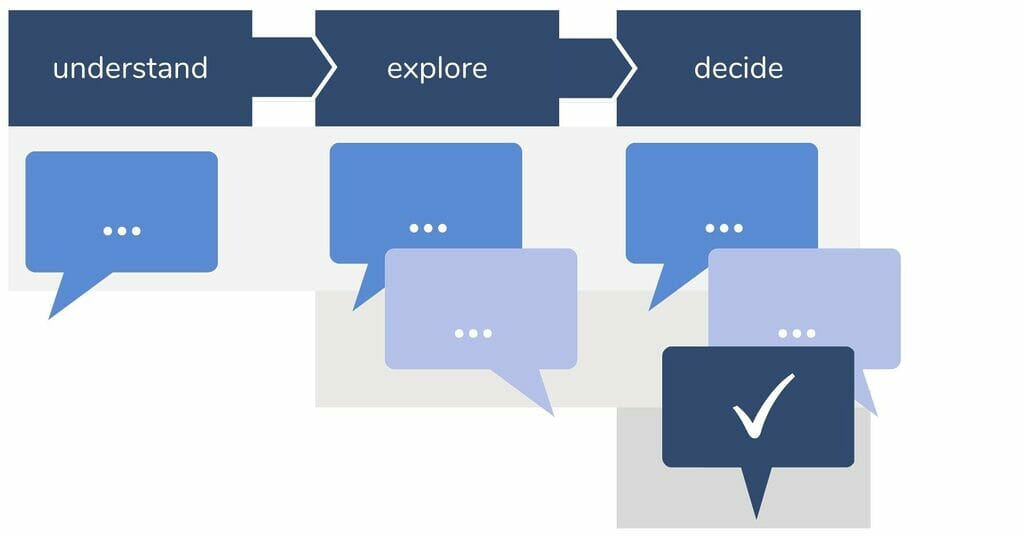 And a solid consent decision-making process will exist of all three steps: reading and understanding the proposal, a reaction round, and the consent decision process.
Sticking to this simple framework makes it clear what you're talking about and to what end. People will have an easier time contributing, and staying on topic, and you'll have a quick meeting, getting through your agenda much faster. Next, learn how to use the same building blocks to solve an issue from beginning to end.