Interested in how sociocracy complements permaculture, ecological design, and education? 
Established in 2015  the Holma Folkhögskola in Sweden focuses on sustainability, ecological cultivation, permaculture and the transition to a post-oil society. Its aim is to get people into Transition thinking, and the school is unique in how it embodies their green ideology. Since the start the school has been using sociocracy, and it is unique in that all teachers are trained in both permaculture and sociocracy principles.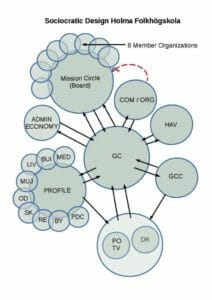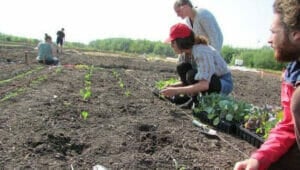 "The introduction of sociocracy came with both benefits and challenges as the organization grew." 
   There are colleagues that are not so enthralled with sociocracy, says Resilient Entrepreneurship and Permaculture Design head teacher Chris Wegweiser. Long meetings and confusion as to the decision-making method are largely to blame. Chris adds that as a result of limited time and resources, which comes with starting up a new school, it is not possible to hire an external Sociocracy expert, or dedicate a week to Sociocracy training instead of a day. This would have many benefits for the school.
The principal Andreas Jonnson mentions that it has been challenging for the school to keep the circle structure up to date with the changing domains of each circle. Every circle decides over their unique domain, without overlapping the domain of another circle. Trying to get the participants' circle (made up of students from all courses) to function has been difficult. There is a lack of continuity, because the circle is constantly changing as students graduate. 
Starting a fast-growing new school whilst implementing sociocracy has been an interesting combination. Learning sociocracy as a school, growing the teacher team, and developing innovative courses, means change is constantly happening. Andreas believes sociocracy makes an organization resilient, and adaptive, with an open flow of information. Chris names sociocracy's strength in delegating between circles, as there is no need to have everyone involved in decision making, yet there is room for everyone's ideas. He also points to its useful tools, such as proposal shaping and picture forming.
Both Chris and Andreas recognize the growth of sociocracy, and mentioned that they have been contacted by a number of people with a healthy interest in the dynamic governance method.
This case study was written by Igne Kuijper