Interested in co-operative and alternative primary education? 
Another School is Possible Association is building a movement of parents, educators, children, and entrepreneurs who are striving for a child centered, play­focused, non­-profit primary education where children are "allowed to be children".
Başka Bir Okul Mümkün Association (BBOM in Turkish), began with a set of ideals in 2009, and was set up in 2010 to develop an alternative school model and to open schools using the new model. The group began with volunteers researching flaws in the Turkish education system, suggesting potential solutions, as well as building a new educational model. The BBOM's idea is to establish democratic schools across Turkey that are child-centered and encourage and enable children's self-actualization; that are governed through participatory democracy; that are ecologically aware in their practices and in their learning environment; and that are fee-paying but non-profit making and also includes children of disadvantaged groups with high levels of scholarships.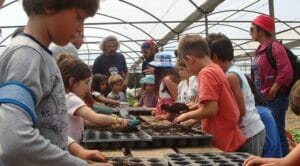 With the educational aim to create, inspire and support participative and peaceful learning communities that oversee children's welfare, BBOM relies on 4 pillars.
The New Finance – Community Schools:

BBOM is proposing an alternative to financial duality, providing assistance to parents and volunteers to open up and run their non-profit/affordable schools as education cooperatives.

Democratic governance

All stakeholders will have equal rights to directly contribute to all the decisions, and sustainable mechanisms to ensure children's contribution will be secured. 

Ecological stance

children constantly develop gamified ways to care for the environment, including games with recycled materials, measuring the school's carbon footprint and finding fun methods to reduce it.

Alternative Education

Children are centered in every decision about school life without the use of tokenizing gestures, including the educational path that they individually choose to follow. BBOM accepts that every child is unique with their own needs, capacities and interests and therefore the individual child should put themself into the centre of their own learning journey. Through this individualised programme a child will be self-actualising. Rather than feel as if they are "failing", children will be feeling "their best within their [own] decisions".
"Each child is unique
and has the right to structure the process of his education, as it is a part of his life."
In 2015 BBOM was introduced to Nonviolent communication (NVC) practices, and all members were trained in the practice. The following year they received sociocracy training from Shammy Nanda from India. Since its beginnings in 2010, BBOM had been looking for non-hierarchical governance models, but had not yet decided on a specific modality.  This period had its own challenges of horizontal governance such as the slow pace of making decisions together, hidden power patterns (that caused huge breakdowns), the uneven distribution of workload and built-in inefficiencies. The use of sociocracy has made BBOM feel empowered and more efficient. Important aspects for the organization include the autonomy and distribution of workload. However, they are still working towards improving their governance structure, especially in terms of transparency. Continue reading to learn more about BBOM's impact and how they use Sociocracy.