6 hours of Nonviolent Communication training for small groups – learn at your own pace and online
Become a better communicator! With this video-led, self-serve course for groups, you can learn Nonviolent Communication (NVC) online or in person – "the language of life"!
Learning about NVC is like opening the door and finding beauty beyond the binaries of "good" or "bad". NVC will open your mind to your own inner world and the world of others. The language of feelings, needs, and requests give us a language to understand others better – and make it easier to be understood by them.
What's special about this course is that you can have a deep, interactive learning experience with a certified NVC trainer with your group and on your schedule, without the need for travel or big expenses.
Welcome to this self-paced, video-led NVC course for small groups!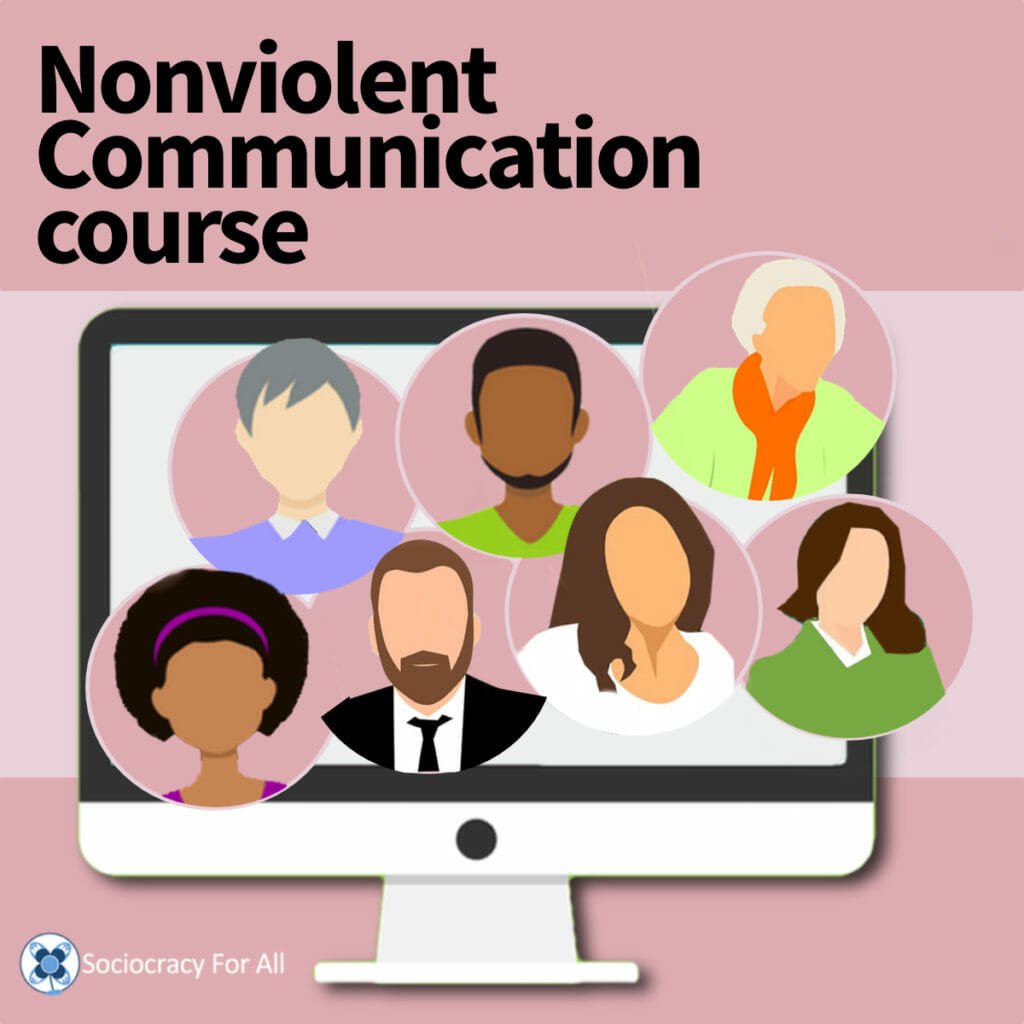 Who is this curriculum for?
Beginners of Nonviolent Communication – or people who'd like a refresher.
This curriculum is ideal for communities, activists, workplaces, cooperatives, associations.
Note: Each group and each individual can choose the level of vulnerability they are comfortable with.
How it Works: learn Nonviolent Communication online
How to get started
Find a group of 2-8 people
Register and get access to the materials
Meet with your group and learn together – at the same time and in the same room (real room or virtual room lik zoom)
Each session combines watching videos and doing exercises together
Our curriculum contains:

3 sessions of about 2 hours each, done as a group
About 90 min of video content and 90 min of group exercise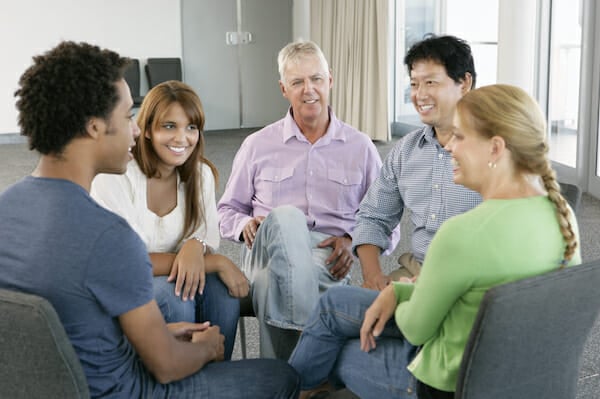 Optional: Coaching between sessions
Would you like to have some hand-holding and personal contact with a trainer during this course? If yes, we recommend 3×30 minutes of coaching ($180) alongside this training. We will connect you to a certified NVC trainer to meet with you during your sessions.
Why use a coach?
Make sure you understand all the concepts well – still on zoom
Get an experienced view on discussion topics that come up in your group
How Much does it Cost?
NVC ELC
without a coach
– all training videos
– a beautiful activity book
– printable NVC cards
–

coaching calls to check in between sessions

–

individualized answers to your group's questions about sociocracy
NVC ELC
with a coach
– all training videos
– a beautiful activity book
– printable NVC cards
– coaching calls to check in between sessions
– individualized answers to your group's questions about sociocracy
Sample pages from the activity book (33 pages total)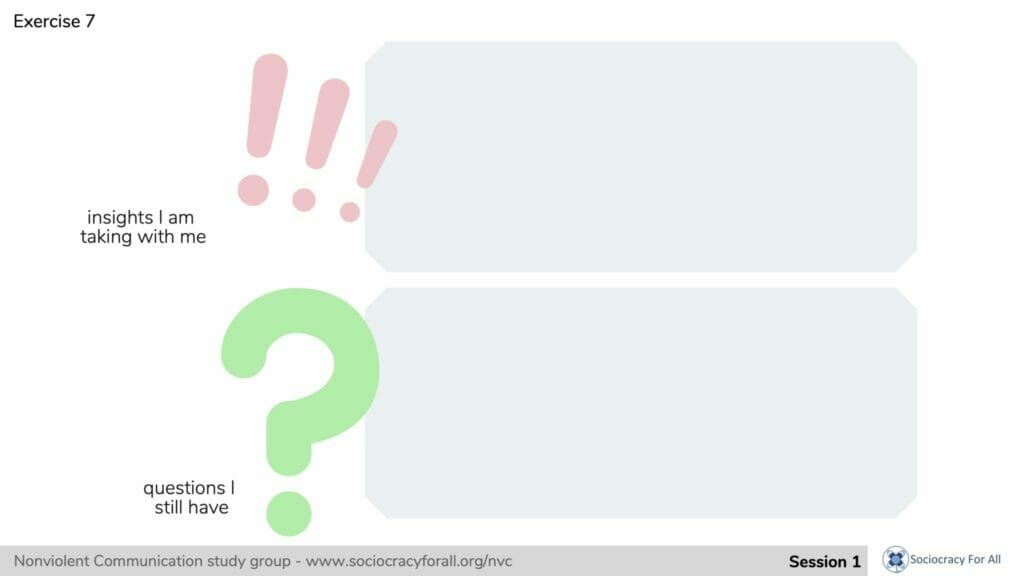 Sign Up for the NVC
Empowered Learning Circle
Training Sessions
Session 1

NVC Needs
NVC Strategies
NVC Feelings
Practice all the way through!
Homework
Session 2

Review
Requests
"Have to" vs "choose to"
Empathy & "giraffe" vs "jackal" speak
Homework
Session 3

Sharing our experiences
More practice
Feedback
Reflections
Testimonials
"This is so succinct and clear!"
"I expect this material will be an indispensable core approach to our social communication processes!"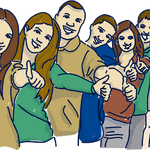 Sign up for NVC ELC
Are you the Group Leader or a Group Member?
All Group Members need a Group Leader and the Group Name their Group Leader shared with them in order to sign up.
Is your group already signed up, but you need access?
Contact your group leader!
The Group Leader will be coordinating and leading your ELC learning group. Each group only needs one Group Leader. The Group Leader:
pays for the course on behalf of the group,
emails and coordinates to get the group together,
manages the group's ELC account and group's progress,
studies and learns along with the rest of the group!
Course access ends after 3 months unless time is extended by switching to an Extended Access Pass before the end of the 3 months.
Add coaching from one of our experienced Sociocracy For All NVC coaches for an additional $180.
Print your own cards
The course comes with a file to print 112 cards of feelings and needs to support the exercises.
Add Coaching for your Group
Do you want extra support on your journey?
Sociocracy For All coaches are experienced guides and personal support for your group.
Note: Coaches meet with 1-2 people from the group between your group sessions, not during the group sessions. 
We can work together to find out how we can best support you on your Learning Circle journey!
Sign up for Coaching
Coaching is $180 per group.
This coaching package is good for 3 x 30 minutes – half an hour scheduled after each of your sessions.
Specifics around how the coach's time are applied are worked out between the coach and the group.