Sociocracy facilitation training for individuals and small groups.
This offering is right for you if you
have a group of 4-8 people learning together
everyone has some experience with sociocracy
you want to become better meeting facilitators
Ideally, your group has gone through our video-led introduction to sociocracy for beginners – but any other sociocracy introduction will work as well.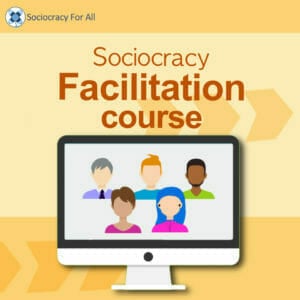 ---
---
How it Works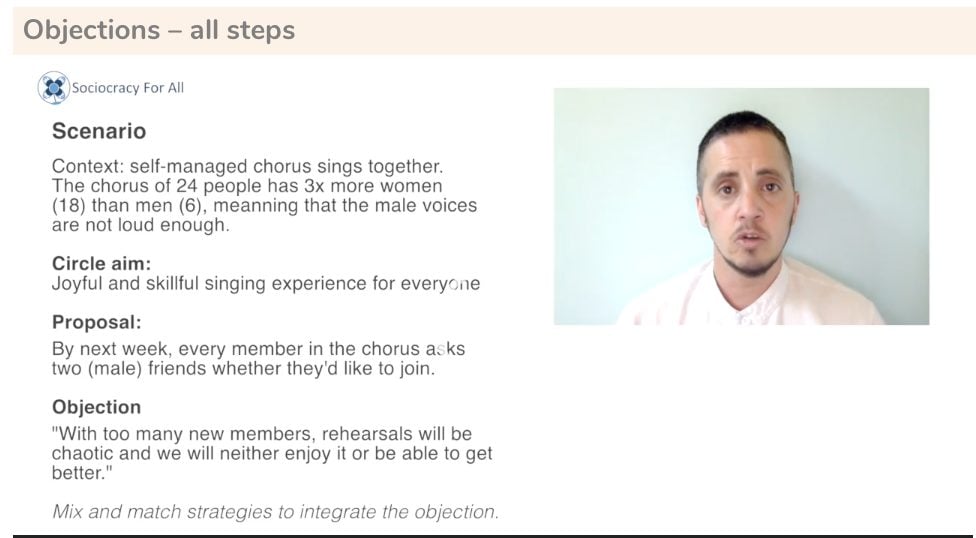 3 sessions of sociocracy facilitation training and practice
For individuals or groups of 4-8 people – learn together in the same room (real or virtual)
Each session combines watching videos and doing exercises together
This curriculum contains:

great activities to put what you learn in practice right away
videos to walk you through each step
online access from anywhere in the world
access to the sociocracy FAQ to answer all your learning questions!
See some happy groups in the pictures below!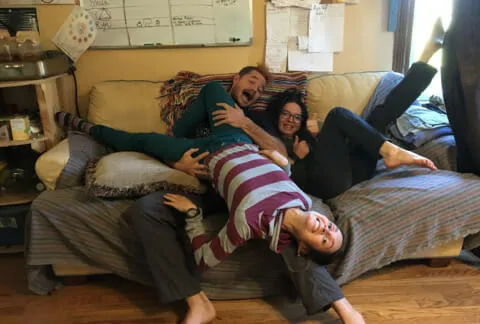 How Much does it Cost?
Without a coach
$220 per group
all training videos
online material for all Group Members
articles
coaching calls to check in between sessions
individualized answers to your group's questions about sociocracy
With a coach
$220 + $120 for coaching fee
all training videos
online material for all Group Members
articles
coaching calls to check in between sessions
individualized answers to your group's questions about sociocracy
Sign Up for the Facilitation Training Empowered Learning Circle
Unit A: Check-in and ADMIN
Unit B: Session overview
Unit C: Consent and Objections 1
Unit D: Consent and Objections 2
Unit E: Consent and Objections 3
Unit F: Faux objections
Unit G: Objections – all steps
Unit H: Debrief and open questions
Unit I: Meeting evaluation
Unit J: Welcome and check-in
Unit K1: ADMIN
Unit K2: Answer questions
Unit L: Time management
Unit M: Facilitators and power
Unit N: Disruption
Unit O: Yes-and-moves
Unit P: Debrief
Unit Q: Meeting evaluation
Unit R: Welcome and check-in
Unit S1: ADMIN
Unit S2: Questions
Unit T1: Overview & proposals
Unit T2: Proposal shaping
Unit T3: Consent process
Unit U: Selection process (topics)
Unit V: Writing roles
Unit W: Giving feedback
Unit X: Objection in a selection process
Unit Y: Debrief
Unit Z: Session evaluation
Sign up for the ELC
Are you the Group Leader or a Group Member?
All Group Members need a Group Leader and the Group Name their Group Leader shared with them in order to sign up.
If you are a Group Member, please ask your Group Leader for access information
The Group Leader will be coordinating and leading your ELC learning group. Each group only needs one Group Leader. The Group Leader:
pays for the course on behalf of the group,
emails and coordinates to get the group together,
manages the group's ELC account and group's progress,
studies and learns along with the rest of the group!
Course access ends after 3 months unless time is extended by switching to an Extended Access Pass before the end of the 3 months.
Add Coaching for your Group
Do you want extra support on your journey?
Sociocracy For All coaches are experienced guides and personal support for your group.
Note: Coaches meet with 1-2 people from the group between your groups sessions, not during the group sessions. 
We can work together to find out how we can best support you on your Learning Circle journey!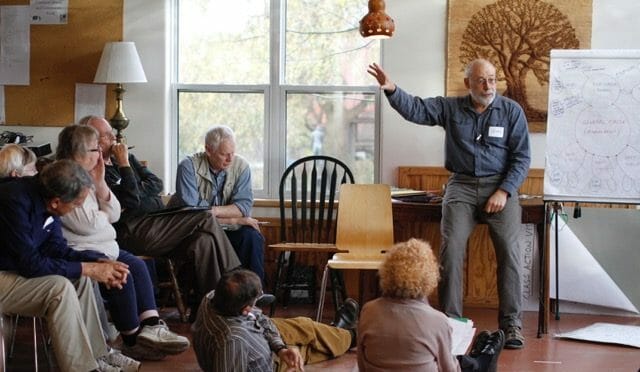 Sign up for Coaching:
Complete your Signup for Coaching
Coaching is $120 per group.
This coaching package is good for a 60 minute meeting with one of our coaches after you have gone through all 3 sessions to address any remaining.
Specifics around how the coaches time are applied are worked out between the coach and the group.
More Questions?
How do the sessions work?

Before the first session.

Make a date! The course requires a group to learn and practice with during the sessions. Get your group of 4-7 people together and schedule a time/date. You can meet virtually or in person.
Make sure to invite your group members (see below) so they get access. They need to know the group name you entered. The other members in your need to sign up for the course via this page or this link and select "Group Member". They enter the Group Name when they checkout.

During the session.

All members meet for each session and go through the group exercises together. Each session takes about 2 hours, including all exercises.

Between sessions.

Answering your questions:

You can research the questions you've gathered in your session in the FAQ.
Meet with your coach to support your group in finding the answers in your group. (optional) We recommend getting coaching from our experienced Sociocracy For All coaches.

Enjoy the additional materials! (You will receive them in an email.)
Read the articles in preparation for the next session. (You will receive them in an email.)
Training Philosophy

Sociocracy For All is a non-profit driven by a mission: making good governance methods available to everyone. We think that better decision-making and inclusion should be the new normal in all places where people come together: schools, businesses, volunteer organizations, schools, clubs, even families!

To achieve the mission, we work with members and staff to make sociocracy accessible to as many people as possible, without compromising on quality. This facilitation course is an example of that. We want to strengthen existing groups and give them the tools and the opportunity to learn together.
What does the course leader do?

The Course Leader will set the pace for your group and organize your group practice sessions.
Some groups may have chosen to use a shared login for their group leader account, in which case your group leader may share that login. If you are using the Group Leader login, then you control access for the group.

What if the group has multiple leaders?
If the person who paid for the leader account is either not the one who will be leading the group, or is co-leading, they should share the account with the other leader(s).

To make a shared account, all the leaders will need to login with the same email address, or use a shared password on the SoFA website.