Sociocracy For All certification
Introduction
SoFA offers certification of competency at four levels: practitioner, facilitator, trainer, and consultant. The consultant level is also publicly and formally recognized by the International Sociocracy Certification Board (ISCB).
The aim of certifications is threefold. 
One is to support the journey of individuals as they seek to meet their own personal learning aims. 

The second is to support the capacity of SoFA trained individuals to make money and be acknowledged for their expertise. 

The third is to provide a degree of quality assurance for those seeking the support of individuals skilled in sociocratic methods.
Badges and Certifications
SoFA has identified 6 areas of learning in support of sociocratic practice. For each of these 6 areas, SoFA has identified 6 specific knowledge elements, each accompanied by measurable activities, Completing those activities earns the individual a "Badge." So there are 6 Badges earnable in each area and 36 Badges in total.
Certification at each level is achieved based on a defined set of badges earned and a performance review. The Badges and Certification levels chart in the Badges Overview document (below) identifies the badges to be earned for each certification level. Certification is based on more than just the accumulation of badges and experiences. The performance review will examine a candidate's qualitative capacity to work effectively at the certification level under consideration and generate a development plan for the candidate's improvement.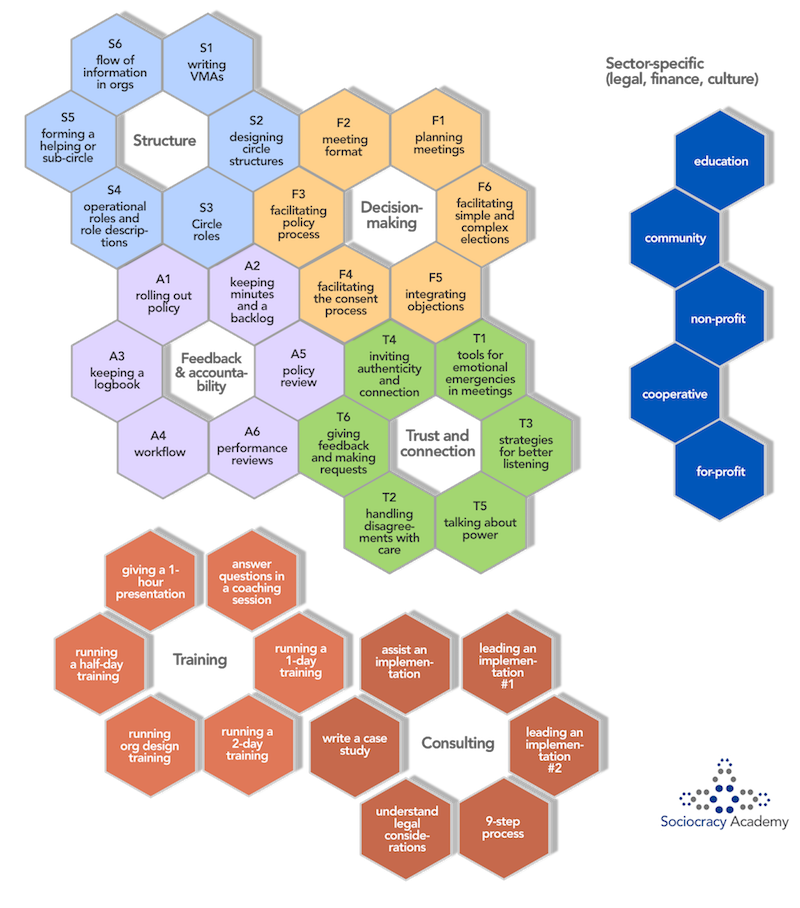 SoFA's Philosophical Approach to Badges and Certifications
Certification is granted according to performance review that compares the candidates skill to the requirements articulated in the badging system.
SoFA badges and certifications will only be available to participants in SoFA training programs and to SoFA members. SoFA will only certify individuals with whom SoFA members have immediate experience. SoFA members can note their certifications as part of their personal statements in the SoFA website and on any personal or organization websites or material of their own.
SoFA does not proclaim that anyone certified is more capable than anyone who may have similar skills but has chosen not to be certified. For that reason, SoFA will not give special status or give out any benefits according to certifications or badges other than listing certification levels on the public-facing website and global map. For some SoFA students and members, certification seems critical to our ability to generate income. For others, certification is a personal measure of knowledge/skill achieved. For some of us, certification implies a ranking system of power that we want to distance ourselves from. For the moment SoFA lives in all these worlds. We hope to learn and evolve in how we relate to the world both as it is now and as it transitions into the more beautiful world we know is possible.
Preparing for Certification
To prepare students for the consultant certification, SOFA offers a variety of learning experiences. Although individuals can chart their own learning path, the most common and structured preparation is participation in the Sociocracy Academy. Individual members of SoFA who wish to prepare for certification outside of the Sociocracy Academy will develop an individualized plan with the consent of the leader of the Training Circle or someone appointed by that leader.
SoFA Learning Offerings
Introductory workshops/webinars, Massive Open Online Sociocracy Explainer (MOOSE), Empowered Learning Circles (ELC)

Intermediate workshops: "Level 2" workshops in Facilitation, Organizational Design, and Nonviolent Communication, advanced level webinars, in-person workshops, Sociocracy Leadership Training (SoLT)

Advanced level: Sociocracy Academy

Coaching & Mentoring

Learning by Doing: Membership in SoFA Circles and participation in projects.

Learning by Teaching: Opportunities to assist and/or teach webinars and classes in the SOFA environment.
Each certification requires documentation, a performance review, and a development plan.
Recertifications and certifications at a higher level require a review of the development plan generated by the previous performance review. Earning badges may be an explicit part of SoFA training programs such as the Academy and/or an individual learning program. Progress through the levels of certification is supported by a mentor. 
Consultant certification process is described in more detail below the table (see below).
Mentor: any SOFA member at a higher certification level.
Mentor and certified person can be the same person.
Certification level
Documentation
Mentored as needed by
Performance Review Circle (decides to grant certification)
Practitioner
As required by badges for Practitioner level
One person on certified trainer level

Mentor, person on certified trainer level

Facilitator
As required by badges for Facilitator level. Recommendation by a home circle.
One person on certified trainer level

Mentor, person on certified trainer level

Trainer
As required by badges for Trainer level. Recommendation by a home circle.
One person on certified consultant level

Mentor, 2 people on certified consultant level

Consultant
As required by badges for Consultant level. Recommendation by a home circle. As outlined in ISCB policy
A certified consultant

SoFA op leader, 2 certified consultants, two SoFA members who are familiar with the candidate's work. (certified consultant may include a representative from another certifying agency.)

Note: A first session may ask for more documentation or reflection for a second session.
Process for Consultant Certification
The International Sociocracy Certification Board
SoFA is a founding member of the International Sociocracy Certification Board (ISCB). The ISCB seeks to standardize the meaning of certifications offered by participating agencies. At this point, ISCB is only recognizing the consultant level of certification. Agencies participating in the ISCB are free to determine the labels and qualifications for any other certifications that they offer. Other organizations that are not part of the ISCB may also offer similar or different badges and/or certifications.
Consultants certified by the ISCB will be publicly acknowledged on the ISCB website. In 2019, the ISCB recognized the first three internationally certified consultants who also serve as the ISCB's founding Board of Directors: Jerry Koch-Gonzalez (co-founder of SoFA), John Buck (founder of Governance Alive LLC and member of SoFA's Mission Circle) and Barbara Strauch (co-founder of the Soziokratie Zentrum in Austria). The ISCB also recognizes "certifying agencies." These agencies commit to having a program to prepare individuals for the consultant level of certification according to standards set by the ISCB. Policies of the ISCB regarding how to become a certified consultant and how an agency can become a certifying agency are posted on the ISCB website. In 2020, the ISCB recognized the first three certifying agencies: Sociocracy For All, Governance Alive and the Soziokratie Zentrum.
Before the Certification Meeting
The candidate will propose a certification review team to the SoFA ISCB certified consultant currently serving on the ISCB Board. If that Board member has no objection, then the candidate will schedule the review.
The review circle will include at least one ISCB certified consultant, their primary mentor or individual who comes closest to that description and at least two others who are familiar with the candidate's work.
The certification candidate will prepare documentation as set in ISCB policies published in the iscb.earth website and distribute it to members of their certification review circle.
Explain how sociocratic knowledge has been acquired, including training received and given, and any documentation of learning such as Badges and SoFA certifications.

Describe sociocracy implementation work in at least 2 organizations, including any adaptations made in usual sociocracy patterns.

Include evaluations from at least 2 organizations (at least 2 must be the same organizations identified in the previous item).

A summary statement of lessons learned from both successes and failures. 

The candidate's initial development plan for the next three years.

Describe current and/or past participation in a sociocratic organization (can be SoFA) and intention to continue participating in a sociocratic organization. 

Affirm willingness to serve on the certification review panels of new and recertifying candidates.

A recommendation to certify from a candidate's home circle in SoFA or other sets of peers in SoFA.
The Certification Meeting
The agenda of the certification review meeting will follow the general style of a performance review, including:
The candidate's summary of their experience and self-assessment

A question and answer period by which review circle seeks to understand the candidate's readiness for certification.

The review circle's rounds of reaction rounds and ultimately consent round to the certification request.

The candidate's summary of their development plan for the next three years.
After the Certification Meeting
The newly certified consultant will write their revised development plan and have it signed off by the members of their review circle and filed in SoFA's records.

The newly certified consultant will fill out the ISCB certification recognition form and pay 50 euros or its equivalent to the ISCB, 

The ISCB will issue

a dated certificate of expertise as a Sociocratic consultant to the individual and will post the information about the consultant on the ISCB's website within 30 days of receiving the documentation and payment.
Process for Consultant Recertification
Consultants certified through SoFA are invited to continue their education with SoFA.

Recertification meetings will only be available to SoFA members in good standing.

The process for recertification at consultant level will be similar to the initial certification.

The certification review will focus primarily on the experience of accompanying organizations in sociocratic implementations and on the candidate's progress on their development plan.