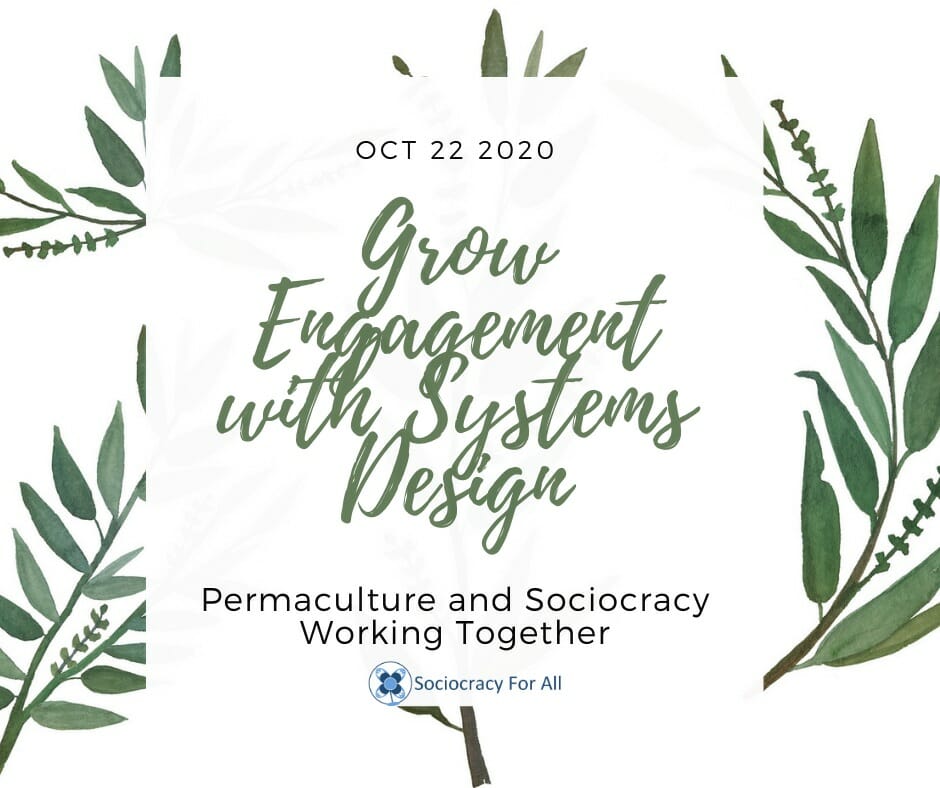 Grow Engagement with Systems Design
Permaculture and Sociocracy Working Together 
This conference was a great success! See the conference recordings below!
Our planet is in desperate need of regeneration and permaculture is positioned to be a system of influence guiding humanity's paths forward. SoFA's Permaculture Circle believes:
Sociocracy, as a system of decision-making and governance, amplifies the effectiveness of any framework.
Sociocracy can help the Permaculture movement become increasingly effective, engaging and impactful
Permaculture design can help further the goals of sociocratic organizations by providing an ethical and systematic approach to regenerative practice.
However, currently Sociocracy is not widely adopted within the Permaculture Community; and not all Sociocratic groups are familiar with Permaculture.
"Growing Engagement with Systems Design" collectively explores the ecotone ("Use Edges and Value the Margin") between Permaculture and Sociocracy, to harness the innovative and transformative forces in the space between them ("Catch and Store Energy".)
Our time together is structured to help you articulate your own growth edges in this rich and inspiring conversation. Presenters are thought leaders using their own experience to support your learning. Out of the conversation, we expect to develop our body of practice together with every intention of seeding effective solutions based in permaculture and sociocracy around the world. Won't you join us?
The Permaculture Circle at Sociocracy for All (SoFA) is organizing an online conference that will include an introduction to how sociocracy and permaculture complement each other. A plenary session will connect people around the world and helps identify how people are currently bridging permaculture and sociocracy. You will also have the opportunity to learn more about an upcoming SoFA Permaculture Circle course.
John Buck's presentation at the permaculture and sociocracy online conference 2020.

Laureen Golden
Laureen convenes, accompanies, and guides leaders who are developing the people, organizations, and ideas our world is asking for.
Laureen has founded and led two organizations (the Ohio Montessori Alliance, and HOW, a worldwide community of paradigm-shifting professionals). In addition, she leads a global listening project exploring leading-edge ways of being and working together in complexity. She has learned that while our new world is definitely different, it becomes less difficult to navigate when you are fortified with relevant maps, guides, tools, and companions. Laureen is committed to creating greater access to this wisdom and know-how to support those restoring wholeness and well-being to the systems they care most about.
Drawing from her background in education and mental health, Laureen works with innovative leaders and their teams to craft customized learning journeys that develop "new world" capacities while accomplishing present-day work.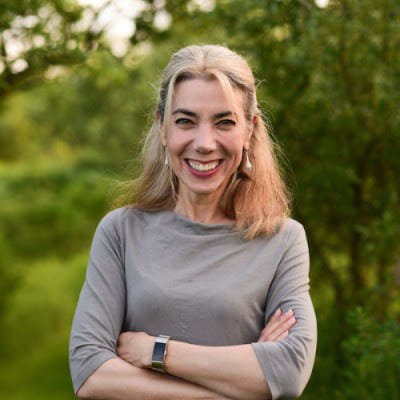 Les Moore
My areas of expertise include Permaculture, Sociocracy, and Community Currency development, and I am particularly engaged in applying such expertise in combatting climate change by reducing carbon emissions. 

I hold a Diploma in Applied Permaculture Design and serve on the Board of Permaculture Association (Britain). Outside design work, I offer mentoring and advice to permaculture students and apprentice designers.
I am a leading figure in developing Sociocracy in the UK. I offer training in Sociocratic working and my office currently hosts the operational activities of Sociocracy UK.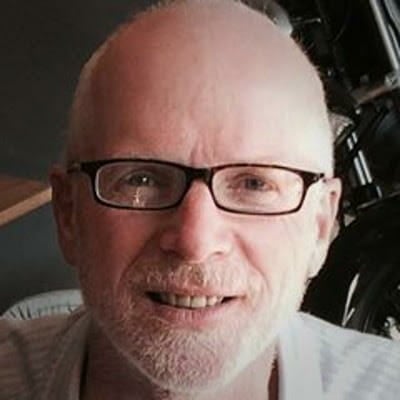 John Schinnerer
John Schinnerer is a whole systems design consultant, teacher, and
facilitator for cultural and ecological systems for a variety of public,
private, and nonprofit clients. Since 1996, he has studied, worked,
taught and published in the realms of human relatings, governance and
decision-making systems, appropriate technology and ecological design.
He applies his wide-ranging observations of and experience with cultural
and ecological systems to all aspects of his practice.
John Buck
John Buck is an expert in the synthesis of Beyond Budgeting, Open Space, Sociocracy & Agile (BOSSA Nova), and President of GovernanceAlive LLC. His clients span the globe and include plastics manufacturers, colleges and universities, long-term care facilities, co-housing groups, NGOs, and software companies. By guiding clients in "rewiring" their basic power structure he helps them toward greater efficiency and increased employee engagement. His background as a former large IT project manager makes him particular adept at helping tech teams integrate this social technology to improve systems. 
The co-author of two books, John Buck wrote We the People: Consenting to a Deeper Democracy, along with co-authored with Sharon Villines, and in February 2018 published Company-wide Agility with Beyond Budgeting, Open Space & Sociocracy: Survive & Thrive on Disruption with co-author Jutta Eckstein. John has led many training workshops and sociocracy implementation projects for a variety of companies and organizations.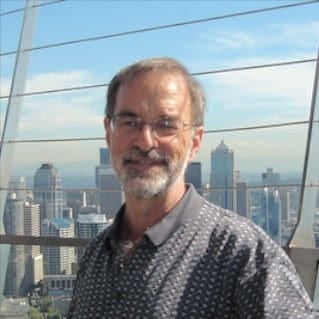 Andreas Jonsson
Andreas is a Permaculture Designer and Diploma holder, and he enters Sociocracy from an organic world view. He uses Sociocracy as a teaching and facilitating method to create group culture, distribute power and to enable people taking responsibility for their whole learning processes. Andreas is the elected leader by the staff at Holma Permaculture School in Sweden, a School which is governed Sociocratically..

Andreas will walk us through complementary design tools in Permaculture Design and Sociocracy.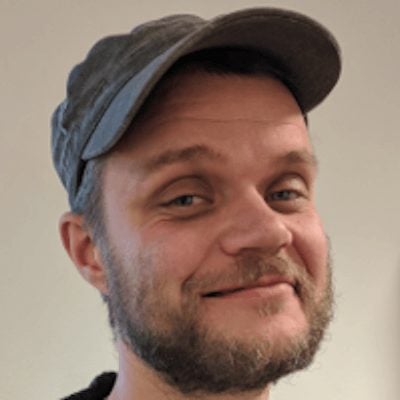 Michael Linton
Born and schooled in the UK and resident in BC Canada for 40 years. Originally in physics and engineering, then schoolteaching and business, before becoming a teacher of Alexander Technique in 1980. In 1982 I designed the LETSystem, leading to community currencies and open money, which remains my main "professional" activity. Married, with 3 children grown and 5 grand so far.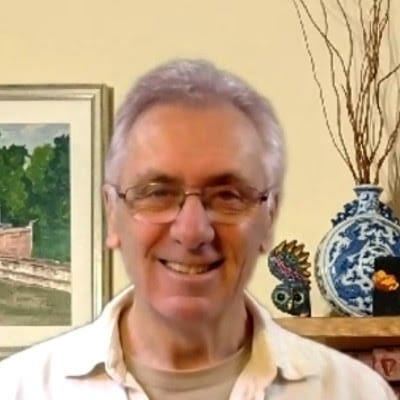 Henny Freitas
Journalist, eco-activist, permaculturist and environmental educator. Ambassador of the Global Ecovillage Network, co-founder of the Latin American ecovillage network and current coordinator of the Brazilian ecovillage network. Author of the e-book "Sociocracyl: New Forms of Democracy in Latin America" and delegate of the SoFA Permaculture Circle (Sociocracy for All). She originates consultancies and courses in the areas of Permaculture, Sociocracy and Social Design.
TEDx Talk: https://youtu.be/j42GefsPYEY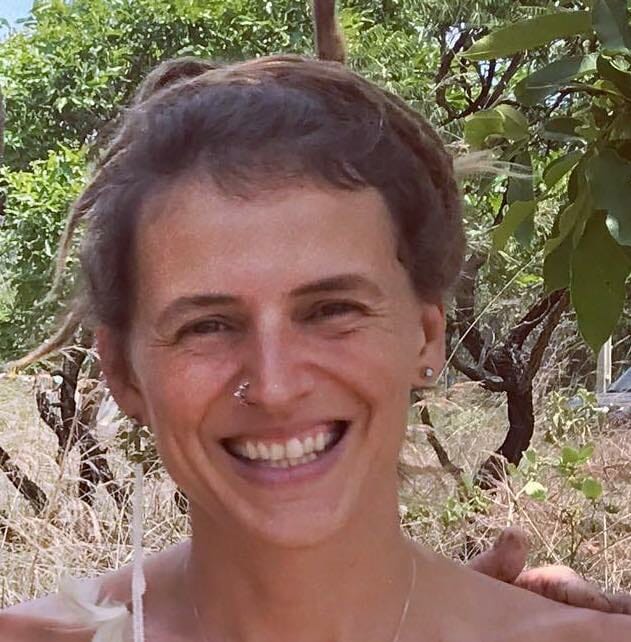 Rakesh Rootman Rak
Designer, facilitator and teacher. He facilitates Permaculture design and ecology, and has been more and more involved in the social Permaculture to enhance his own capacity in this area. He understands complex systems and simplifies them, which comes from his background in IT consultancy. He was working with fault tolerant UNIX systems: designing computers that never ever crash. By designing in redundancy and ensuring no single points of failure he can guarantee when components die, the system keeps on running.