Language: Español
Historically, sociocracy has often been practiced with Nonviolent Communication (NVC). This is a connection that is strong within SoFA as well. For example, the handbook Many Voices One Song meshed sociocracy and NVC on all levels. For this reason, we have compiled a collection of nonviolent communication workshops and trainings. It is a content area that Sociocracy For All is intending to grow. (Historically, we have focused on sociocracy and taken work on communication skills for granted but we realized that we need to be more active in spreading those as well.)
Sociocracy and NVC implicitly share some basic assumptions and values: non-coercion, self-organisation, learning and effectiveness as a measure, and a holistic and system view. In addition, NVC complements sociocracy supporting effectiveness. Meanwhile, Sociocracy can codify and turn into systems practices that NVC can address.
Of course, sociocracy can be combined with other frameworks and practices that enhance our awareness of each other and make it easier and more effective to communicate with each other. After all, sociocracy requires a commitment to feedback, and therefore anything that helps being effective in giving and receiving feedback will help governance.
What is nonviolent communication?
Nonviolent communication (also knowns as NVC, or compassionate communication) is a framework for understanding and communicating in an a way that supports deeper connection. It was was created by Marshal Rosenburg. It emphasizes understanding and in some cases sharing about the emotional experience in relation to what happened between us.
Below, you can find workshops, trainings and resources to learn nonviolent communication.
Nonviolent communication online training
Find an upcoming non violent communication course online
3 x 2h online class on non-violent communication with focus on governance. Saying what's really going on with integrity, while being open to hearing the other person's truth.
Taught by Jerry Koch-Gonzalez, certified trainer of Nonviolent Communication®.
Self-paced nonviolent communication video training
Would you rather go through the NVC training on your own? You can!
This is a set of pre-recorded videos for you to watch – with integrated group exercises woven into the videos.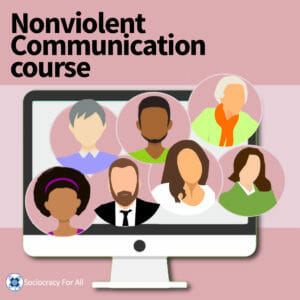 ---
---
Nonviolent communication resources
Nonviolent communication feelings and needs list
In NVC feelings and needs are key concepts. Looking for an NVC feelings and needs reference?
Download the nonviolent communication pdf for a list of feelings and needs or read the article on how to use a list of NVC feelings ad needs!
---
Nonviolent communication articles and videos
This webinar recording on Nonviolent Communication (NVC) and sociocracy with children is from May 14, 2022. Are you tired of conflicts over chores? Or are you having trouble managing a rowdy classroom? Sociocracy and Non-Violent Communication are complementary systems that support emotional intelligence and collaborative decision-making. These systems provide tools to help parents and teachers…