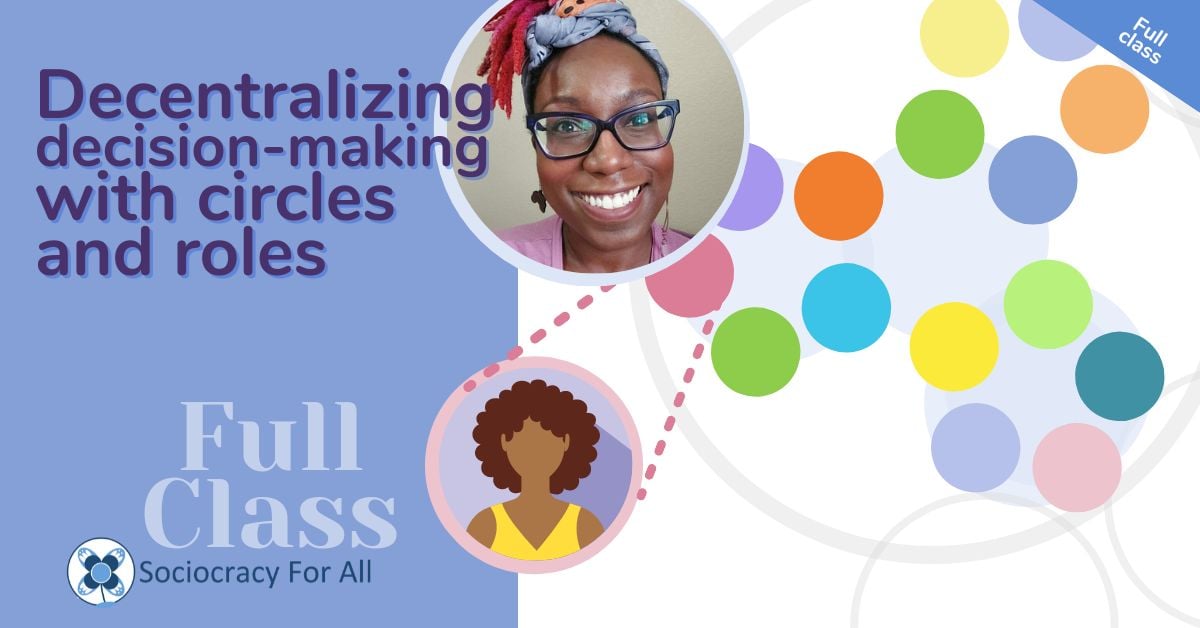 Topic

This class is for those who want to understand how circle structures and roles can be used to empower groups and individuals to make decisions and to clarify who does what in an organization. We will refine and practice more with 4 extra topics and 3 small group exercises.

What are examples of real organizational structures? How do I design my own?
How do we define roles to get a lot done?
How do we decide who does what and who is on what circle?
What are additional ways to build community?

Small group exercises:

Define aims and domains
Let's draw a circle structure together!
Selections
| | | | |
| --- | --- | --- | --- |
| Schedule | 0:00-0:10 | Overview |   |
|   | 0:10-0:40 | Presentation + questions | Real examples of circle structures |
|   | 0:40-1:10 | Exercise (large group) | Draw a circle structure |
|   | 1:10-1:35 | Presentation + questions | Aims and domain, operat. roles |
|   | 1:35-1:55 | Exercise (small group) | Define your aims/domains |
|   | 1:55-2:20 | Demo (large group) + questions | Selection |
|   | 2:20-2:40 | Exercise (small group) | Selections practice |
|   | 2:40-2:50 | Presentation + Questions | Build connections and community |
|   | 2:50-3:00 | Closing and feedback |   |
| | |
| --- | --- |
| Local time zones | This event is one 3-hour session on Aug 28. The starting time in local time zones is: |
Trainers

Our classes are taught by SoFA team members and students. This class is taught by Shala Massey.


Shala Massey

Shala has been a working member at Sociocracy for All since January 2021. She is active in Sociocracy for All's Training, Continuing Education, and Conference circles and is a certified sociocracy practitioner and facilitator.
Pricing

Regular pricing: $85 per person. We ask that when an organization pays for your ticket, you opt for the professional pricing level of $175. 

 

Scholarships: If your financial situation is keeping you from taking this class, please send a short paragraph describing your need to

[email protected]

. You can request 30%, 60% or 100% off. Note that it's rare that we give big scholarships to people in countries with high cost of living. Read our social justice statement
Group discounts. Bring a friend! If you'd like to take this class with someone else, you can receive a discount code to sign up for 30% discount each. (For three or more people.) Request a group discount code:

[email protected]

.
+++
We offer modules in 4 other areas overall, each essential to smooth self-management.