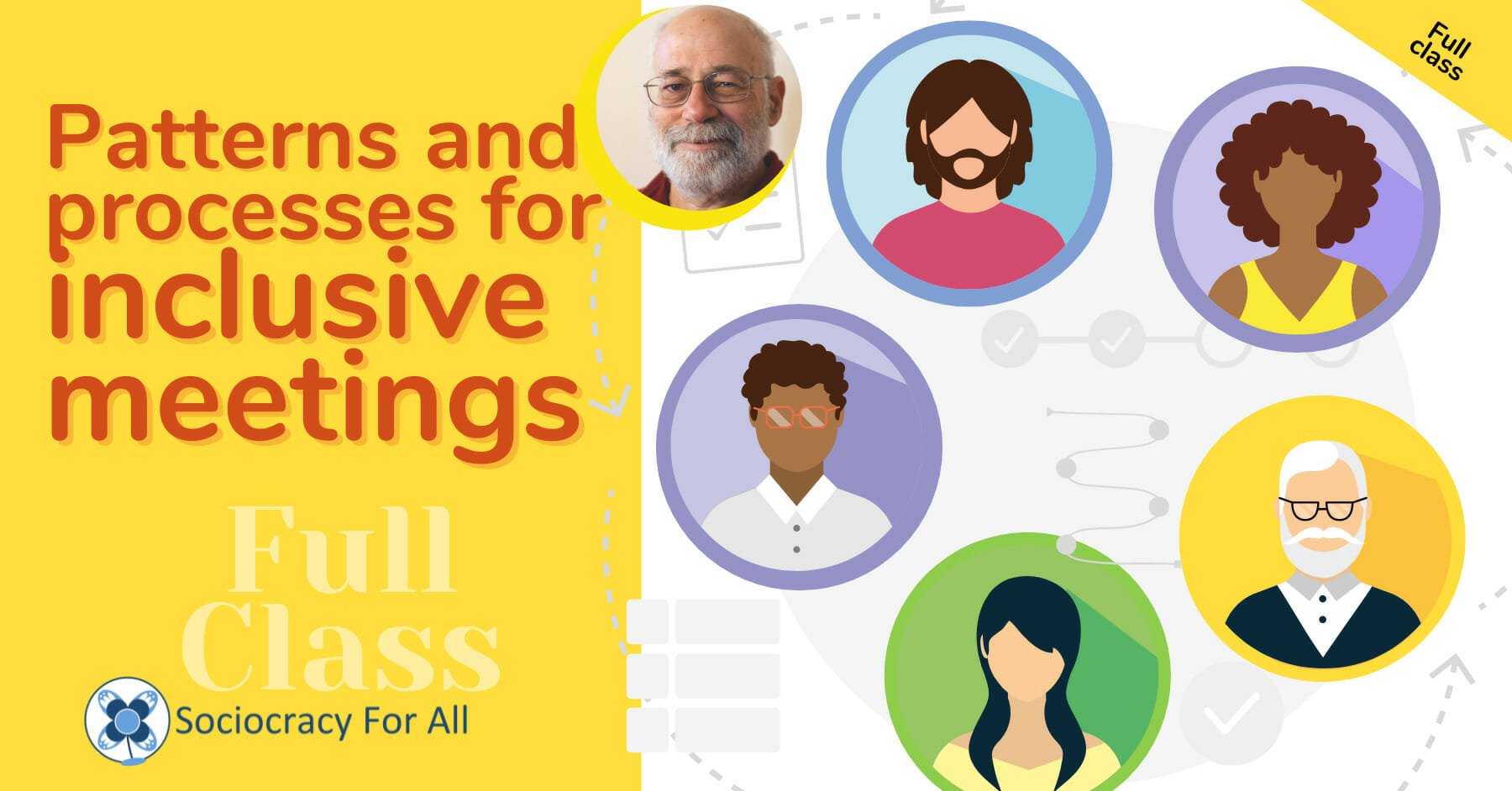 Topic

Do you facilitate meetings? This class will help you be more effective, efficient and inclusive at the same time!

A continuation of our free info class, this class will refine and offer practice opportunities with 4 extra topics and 3 small group exercises.

What are the steps of decision-making? How does one move a group towards a decision so everyone 'walks' together?
What are the tricks of good agendas? How can we hold agenda planning together and make sure we're staying on track?
How can we keep meetings time short and sweet?
How can we write proposals together in a timely manner so everyone's ideas can flow into a proposal?

Small group exercises:

Planning an agenda
Write proposals together
How to improve meetings together over time
Schedule

0:00-0:10
Overview
0:10-0:30
Presentation + questions
The anatomy of decisions
0:30-0:40
Presentation + questions
Agenda planning
0:40-1:00
Exercise (small group)
Plan an agenda!
1:00-1:30
Presentation + questions
Saving time & staying on track
1:30-1:55
Demo (large group) + questions
Writing proposals together
1:55-2:20
Exercise (small group)
Writing proposals together
2:20-2:30
Presentation + questions
Meeting evaluations
2:30-2:50
Exercise (small group)
How to improve meetings together over time
2:50-3:00
Closing and feedback
| | |
| --- | --- |
| Local time zones | This event is one 3-hour session on September 7. The starting time in local time zones is: |
Trainers

Our classes are taught by SoFA team members and students. This class will be taught by Jerry, and supported by co-trainers and mentees.

Jerry Koch-Gonzalez

Jerry is one of the co-founders of Sociocracy For All and has been teaching and consulting in sociocracy for more than a decade.
Pricing

Regular pricing: $85 per person. We ask that when an organization pays for your ticket, you opt for the professional pricing level of $175. 

Scholarships: If your financial situation is keeping you from taking this class, please send a short paragraph describing your need to

[email protected]

. You can request 30%, 60% or 100% off. Note that it's rare that we give big scholarships to people in countries with high cost of living. Read our social justice statement
Group discounts. Bring a friend! If you'd like to take this class with someone else, you can receive a discount code to sign up for 30% discount each. (For three or more people.) Request a group discount code:

[email protected]

.
Level

This class requires basic familiarity with the sociocratic meeting format and rounds. You can sign up for our free info session on meetings (there will also be a recording in case you miss the live event).

Alternatively, please review these two articles before the class:
+++
We offer modules in 4 other areas overall, each essential to smooth self-management.