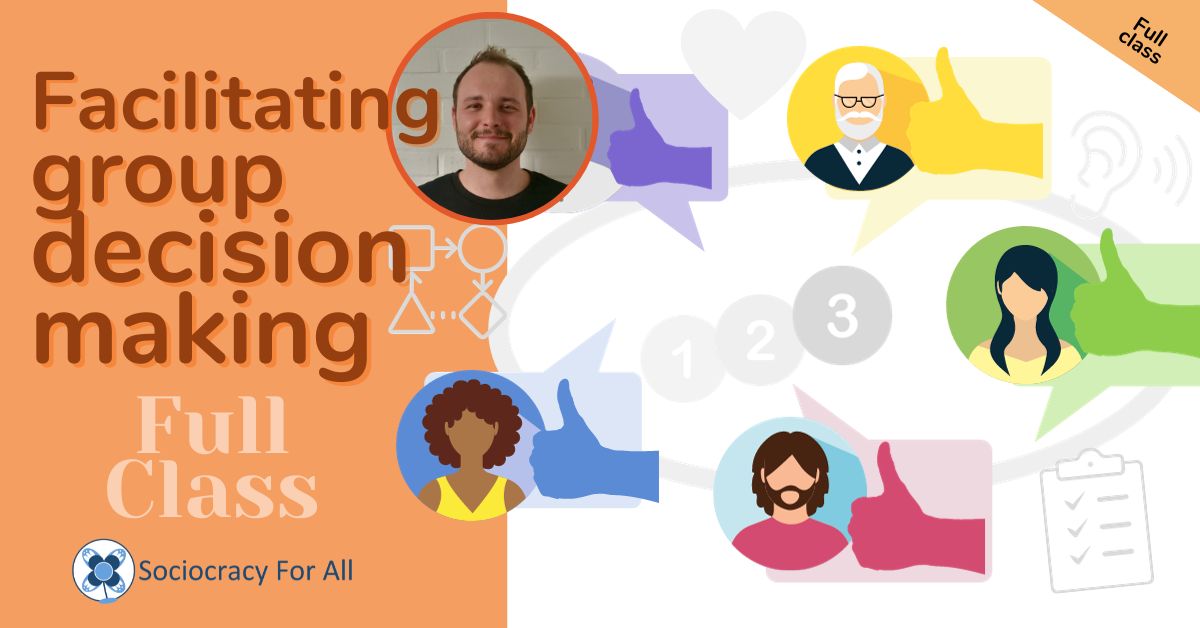 Topic

You know the basics of consent decision-making but you need a bit more to put it into practice? This class is for you!

A continuation of our free appetizer class on consent, this class will focus on practice opportunities and deepening of group decision-making with consent.
What can I do if there's an objection?
What if someone brings a concern that's not really an objection?
What do I do will all the amendment ideas?
Getting up to speed. What decisions are made in a group, and what decisions could individuals make alone?

Small group exercises:

How do I object?
Integrating an objection
addressing faux objections
Schedule

0:00-0:10
Overview
 
0:10-0:30
Presentation + questions
Consent and objections
 
0:30-0:45
Exercise (small group)
How to object
 
0:45-1:05
Presentation + questions
Options to integrate an objection
When do I amend?
 
1:05-1:35
Exercise (small group)
Integrating objections
 
1:35-2:00
Presentation + questions
What a concern be an "invalid" objection?
 
2:00-2:25
Exercise (small group)
Integrating objections (more difficult)
 
2:25-2:40
Presentation + Qs
How to speed things up – policy & operations
 
2:40-2:50
Exercise (small group)
Reflection time
 
2:50-3:00
Closing and feedback
| | |
| --- | --- |
| Local time zones | This event is one 3-hour session on December 8. The starting time in local time zones is: |
Trainers

Our classes are taught by SoFA team members and students. This class is taught by Thomas Kemps.

Thomas Kemps


Thomas is passionate about grassroots organizing and sociocracy. He's a sociocracy certified trainer based in Italy.
Pricing

Regular pricing: $85 per person. We ask that when an organization pays for your ticket, you opt for the professional pricing level of $180. 

 

Scholarships: If your financial situation is keeping you from taking this class, please send a short paragraph describing your need to

[email protected]

. You can request 30%, 60% or 100% off. Note that it's rare that we give big scholarships to people in countries with high cost of living. Read our social justice statement
Group discounts. Bring a friend! If you'd like to take this class with someone else, you can receive a discount code to sign up for 30% discount each. (For three or more people.) Request a group discount code:

[email protected]

.
+++
We offer modules in 4 other areas overall, each essential to smooth self-management.