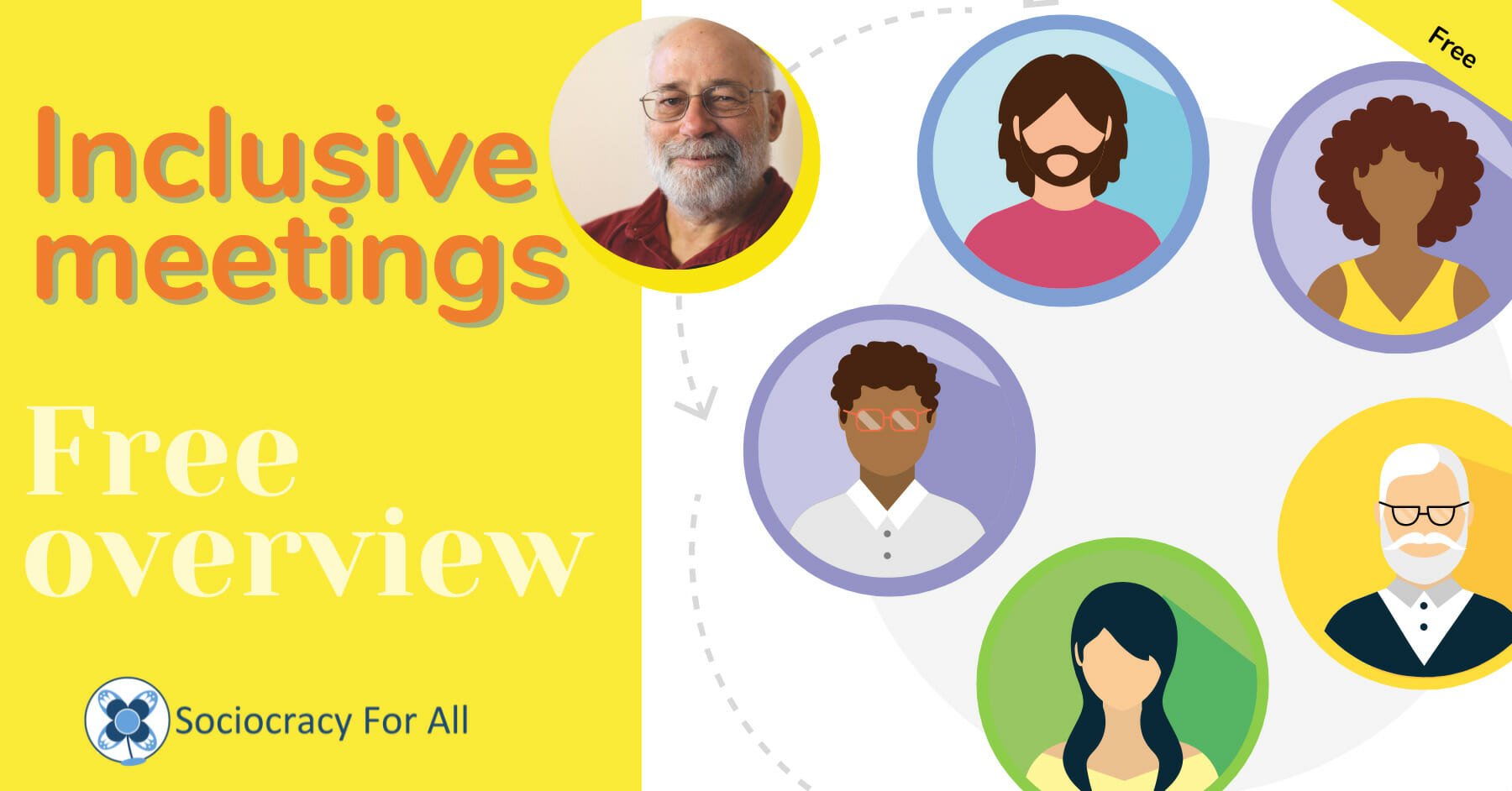 Topic

In this free class, we will share the template for how to structure a meeting so everyone and be heard. The meeting format from sociocracy is flexible yet reliable, collaborative, and effective at once.  
One of the most transformational tools in sociocracy is rounds – the practice of speaking one by one. In this class, we will not only show how to do it but also practice how to inspire people to stick to this inclusive way of speaking. How can we interrupt people who are monopolizing air time?
To conclude this session, we will share our template of a minutes sheet with guidance on how to take notes so they can be efficient and transparent.
Schedule

0:00-0:05
Overview
 
0:05-0:20
Presentation + questions
Meeting format
 
0:20-0:40
Exercise
Rounds
 
0:40-0:50
Presentation + questions
Good meeting minutes
 
0:50-1:00
Closing and next steps
| | |
| --- | --- |
| Local time zones | This event is one 60-min session on August 24 with some time for questions. The starting time in local time zones is: |
Trainers

Our classes are taught by SoFA team members and students.

 

Jerry Koch-Gonzalez 

Jerry is one of the co-founders of Sociocracy For All and has been teaching and consulting in sociocracy for more than a decade. 
Pricing

This info session is free to everyone.
Sociocracy For All is a nonprofit. Donations are welcome – you can buy a ticket with a donation. It's appreciated!
Level

This class does not require any previous experience.  
If you want to prepare, please download the free ebook Sociocracy, a brief introduction on our content page.
 
After this class, you can take the corresponding next-level class, "Full Class: Patterns and processes for inclusive meetings", a 3h-class building directly on the topics covered in the free introduction on the topic of meetings. Check out the dates and find an upcoming class for you!
+++
We offer modules in 4 other areas overall, each essential to smooth self-management.