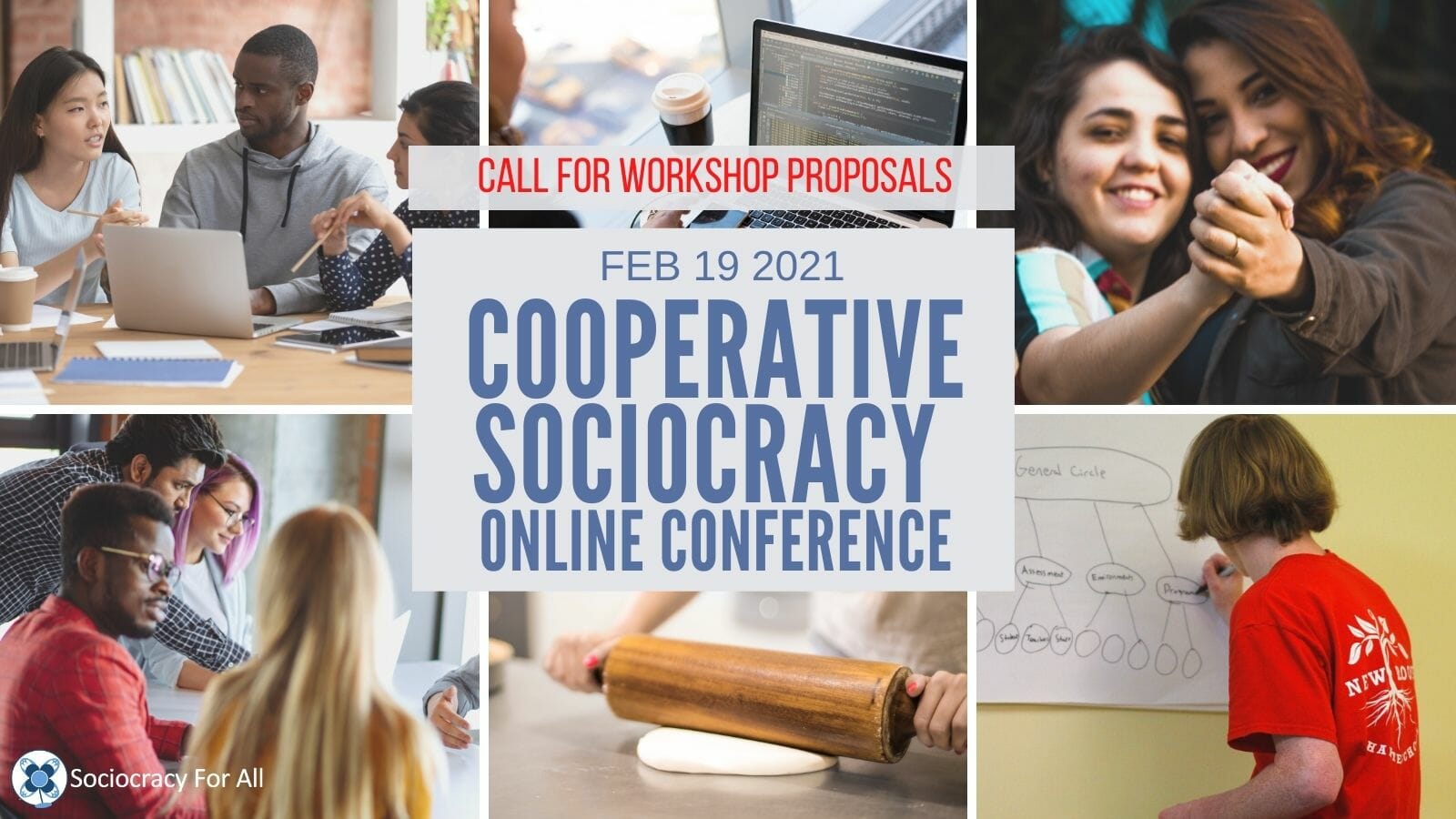 The theory and practice of sociocracy in cooperatives
Call for workshop proposals
Join us on February 19, 2021 (15:00-19:00 UTC)
for an online conference for sociocracy in cooperatives.
We are calling for workshop proposals for a conference which will be an accessible introduction to, and interactive exploration of, the current and future theory and practice of sociocratic governance in cooperatives.
Please submit your workshop proposals addressing one or more of the following themes:
Why is sociocracy great in co-ops?
Implementing sociocracy in co-ops. How to create sociocratic co-ops from scratch or implement sociocracy in an existing co-op. This could include case studies.
The Nuts & Bolts of sociocracy in co-ops, Practical tips, case studies, or discussions to share good practice.
Emerging themes – How sociocracy is evolving in the co-operative context and how sociocracy is relevant to new and exciting developments in the wider co-operative and social justice world.
We will also consider other topics that you find important and relevant.
Workshops should also ideally fulfill the following criteria:
Workshops should be 45 or 90 minutes in length. Ideally 45-minute sessions will allow for quick presentations of single issues or ideas plus questions, whereas 90-minute sessions will allow a deeper dive or give time for panel discussions. Please specify the duration of your proposed workshop.
50 word description of your proposal.
Please include a short biography (50 word maximum) of yourself with your proposal.
Please submit your proposals by November 22 2020. You will be notified by early December. 
Date and time in all time zones
This conference will be held on February 19, 2021 at a time when most of our audience is available.
We apologize to our friends in Australia and New Zealand as well as some parts of Asia where this time frame is during night hours.
Tickets are on a sliding scale starting at $10. The suggested price is $35. 
Not ready to register? That's ok. Want us to remind you? 
Sign up for the Sociocracy For All mailing list and we will remind you of this conference when the program is ready to share!
Selection of talks
This conference is organized by the Co-op Circle of Sociocracy For All, a group of co-operative practitioners, supporters and consultants of sociocracy in cooperatives. This circle will select among the submissions for this conference. 
If you have additional questions or requests, please contact the circle under [email protected].  
Needing inspiration? Read this article "Manifesto for wholesome cooperation" on sociocracy and the cooperative movement.