What does SoLT look like?
The organizational structure of SoLT looks like this. Where do you want to be?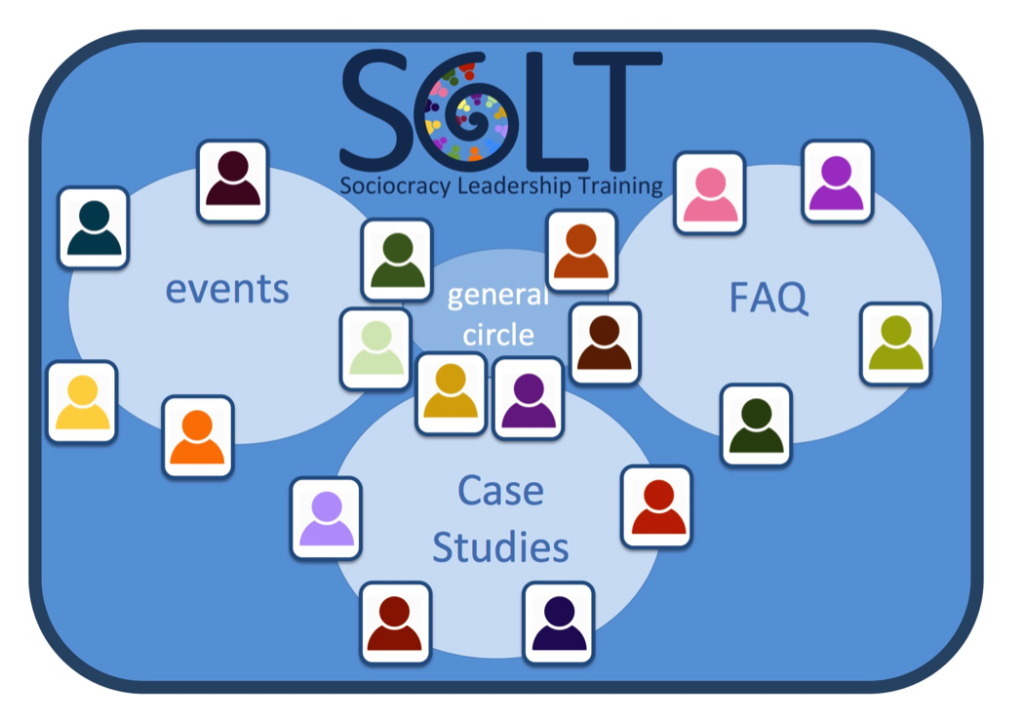 So, what is in this for me?
This is more than a workshop. This is learning by doing. You will be part of a sociocratic organization yourself. For a limited time, you do a real contribution in your work. Together, you will form 'pop-up' organization called SoLT.
Sociocracy is a governance method that changes the culture in an organization to a way of working together that is more harmonious, effective and transparent. You will also find that you will be able to hear everyone in your organization so no voice will be ignored.
Sociocracy For All will provide everything that your SoLT organization needs. SoLT members will have access to all the SoFA infrastructure, like google drive, all training materials, one-on-one mentoring, in-depth training just for SoLT participants, our mailing list if needed, all internal documents, all tracking tools, accounts and resources. In a word, this is the real deal.
After this leadership training, you will have the basic knowledge so that you will be able to live sociocracy in an organization. Even if you are not part of an organization that is considering adopting sociocracy, you will have more clarity around process and tools that will make your contribution in any organization more valuable.
And, maybe most importantly, you will be able to enjoy smooth team work and get stuff done. You will work with people like you, in an international team of people of all ages who care about people and planet. You will make great connections and experience a sense of belonging in this project. See what we mean in this video about SoLT.
By the content (FAQ and case studies) and events you create, you will help more people get access to tools and skills around governance. That way, you will be able to spread what you learn, so your impact goes far beyond yourself and the SoLT members.
Why is Sociocracy For All (SoFA) doing this?
Our passion is to spread sociocracy. We have taught sociocracy for a long time. We are part of several sociocratic organizations. We see that it is practice that shows the beauty of sociocracy. One can teach and explain but really it is the doing that excites people. It just feels so different than other ways of working together. In SoLT you can be part of something.
We don't want to waste people's time and resources on a fake project. So we decided to let SoLT participants make real contributions. The aim of SoFA is to spread sociocracy and provide access to skills and resources around sociocracy to everyone, not only large, well-funded organizations. We can double the benefit for our aim if we give away all knowledge and share all resources and let SoLT members be a core part of Sociocracy For All for the time of the program.
So, what is this actually going to look like?
The center of your attention will be your circle. You will attend meetings of your circle (meeting times and dates for the second cycle of SoLT in January 2017 see in table below). Possibly, you will serve as leader or delegate of your circle for some or all of the time and attend general circle meetings during your term. In your circle meetings, you will coordinate tasks and make policy decisions together using sociocratic principles. You will select circle members for roles, and you will measure, evaluate and give feedback.
There will be Full Circle meetings, attended by everyone in the circles with special trainings just for SoLT members.
There will be General Circle meetings in which the leader and delegates of the three circles will coordinate the works that the circles are doing, and operational meetings in which only SoFA and the leaders of the work circle will do a quick check-in. You might be in on of those meetings if you get selected as leader or delegate of your circle.
Who selects leaders, delegates, facilitators and secretary?
Leader are going to be appointed by SoFA's recruiting team (think of SoFA members as the CEOs of this organization). Facilitators, delegated and secretaries are of course selected by the circles. You might be familiar with the concept of the double link – leaders are selected top-down, while delegates create a bottom-up link. Remember, nobody can be over-powered or outnumbered, because decisions are made by consent.
What else might happen?
You might form subcircles, you might even get more people involved into subcircles. A sociocratic organization is always a living and changing organization. You might need to consent to spend some seed money. You might have to deal with interpersonal issues – this is bound to happen (but we'll have a lot of skill to offer for those cases). You might want to start a spin-off after the SoLT term – we don't know. This is real life, and life is what happens while you're busy making other plans. SoFA is committed to supporting you but not committed to to any particular outcome outside of achieving the circles' aims.
When are meeting times?
SoLT 2 (Jan 6-Mar 10, 2017) This SoLT cycle is full!
SoLT 3 (Feb 24-Apr 28, 2-17) Open for registration!
SoLT 4 (Apr 14-June 16, 2017) Open for registration!
Please do study the meeting times. If you have limited availability, it might make sense to choose a circle depending on your availability. We set those meeting times in order to make sure you can make this decision about your availability upfront so circles are not burdened with scheduling meetings.
All meetings will be on zoom. (Similar to but more convenient than skype, and also free.) All times are Eastern Time but we know you will be working with people in other time zones, from at least 4 continents. We made an effort to accommodate Pacific Time and European time zones when we set the meeting times.
What is SoFA offering?
SoFA is doing all the prep, scheduling and recruiting
We assume you will know the basics of sociocracy (you can just watch our videos, that should give you enough to cover the basics within 1h), and we're providing training around facilitation, consent decision-making, dealing with objections, performance reviews, evaluation. You will learn all those things and use them yourself.
SoFA has some seed money if needed
Every SoLT member can take up 90min of 1-on-1 mentoring over the course of this training by email or on zoom. You might want to process something that came up for you in the meeting, or you want to get deeper insight into sociocratic principles. This is an offer, not something you have to do, and we ask you to use our time wisely.
During Full Circle meetings, we offer other related trainings, like Non-Violent Communication (NVC), which we consider valuable skills to have in any organization.
What is the cost for this ?
There will be a set fee of $200-400 (sliding scale) due before the first meeting. We will also ask for a donation after the whole training.
SoFA is a non-profit. Our aim is to provide free access to resources and training for sociocracy. Obviously, we need to live, eat and pay child care as well. To make a SoLT cycle viable, we have to charge you some money. Compared to other trainings or webinars, our fee is extremely low. Plus this format is even richer because we will provide a more in-depth training plus a taste of non-violent communication. We will provide full transparency to participants of how much time SoFA put into the project before, during and after the training.
Donations after the training will pay it forward for the next SoLT cycle, pay for stewardship of the content SoLT members after the event, and they will cover the extra mile that SoFA members are going to walk to make your Sociocracy Leadership Training an awesome experience.
If the fee is an issue, please send an email (info@sociocracyforall.org) to schedule a phone call. If you can donate more, see our donor page.
What does the FAQ circle do?
FAQ circle will revisit the FAQ videos that SoFA already has and will add whatever they see missing. FAQ circle members will write articles, make videos or audio and visual material that will explain sociocracy to everyone. This content can be very general (for instance, "why do we do a quick reaction round in the decision-making process?"), or it can be very specific (like "what are the legal implications for a food co-op running on sociocracy in Wisconsin?"). It can involve translating content into another language, or it can be making an animation to explain something. FAQ circle is going to grow the knowledge-base, and SoFA is going to be steward for the content in the future. (And other SoLT cycles to follow will add to it so it will keep growing even more!)
This circle is perfect for everyone who enjoys understanding details and benefits from (re)producing content to promote their own learning.
Who will own the content SoLT participants are producing?
All SoFA content is always under a creative commons license. We publish videos on youtube for free, and we offer content on the website. We will keep it that way.
Consequently, all SoLT content will also be published under a creative commons license CC/jn (add link). We will be stewards for the content but we will not monetarize it.
What does Case Study circle do?
Case study circle documents existing sociocratic organizations. You can write an article about them, or you can make a video clip, interview a member or make it a podcast. There are numerous organizations in different regions, countries and sectors, like schools, worker coops, non-profits and intentional communities that we can connect you with. Another good idea is just to gather organizational structures from real organizations running on sociocracy so new organizations do not have to re-invent the wheel. The case studies will make it much easier to understand how sociocracy will work in their specific case.
This circle is for everyone who like to see things in action and likes to connect with people.
What does Event Circle do?
Event circle is going to plan one or more events. The aim is to promote and educate about healthy power in an engaging way. The most obvious option for an event format might be a webinar conference for that day but we would not limit options to that. This event could be a release party, a twitter blast, or a collaborative event, or just a show and tell of this SoLT cycle. We could also try to get on TV or radio with this. The sky is the limit, and you will work it out. We can connect you to interview partners and other resources.
This circle is the right one for people who enjoy planning more than producing content work. There will most likely be interaction and cross-pollination between all the circles which will be facilitated by the General Circle.
What does Broadcast circle do?
Broadcast circle will write articles about sociocracy and will publish and post those articles. Members of this circle might think of their own background first. For instance, if you're a worker-owner of a coop, then write something for worker-owners of coops. If you're big on facebook and that's your thing, then write on facebook.
Note that Broadcast Circle is new in SoLT cycle 2 as we've added Broadcast as a 4th circle.
Ok, I am interested. What is the process of becoming a member of SoLT?
The first step is to send us an email to info@sociocracyforall.org to express interest. We will then schedule a 20 minute phone interview.
In the phone interview, we will ask you about…

how you heard about SoLT
what exposure you have had to sociocracy
affiliations to organizations you are active in
your location
most importantly, which circle you would like to be a part of. We will try to balance out the circles and find good matches.
We will ask you for permission to record all interviews as "before" footage. (Nothing will ever get published without your consent.)
What other requirements are there?
The time you put in will fluctuate over time but will likely add up to 36h for the project spread out over 10 weeks. Half of this time (18h) is meeting time, including online trainings and evaluation etc. The rest is work between meetings, like emailing and writing or planning with a subgroup. (This equals to 2 weekend workshops (4x8h), or about 3h per week over those 10 weeks.)
We ask that you make an effort to respond to email within 2 days.
You should be able to make the meeting times as scheduled above. Of course life happens but the success of the project depends on people being committed. If you miss a meeting, you can watch the recording of a meeting and check in with your circle leader after. Also, we expect circle members to notify the a circle leader ahead of time if you have to miss a meeting.
It is easier to contribute if you are comfortable reading, writing and speaking English. (Typically, only about half of the participants are native speakers of English.)
When do we start? When is it over?
This cycle starts with your phone interview in the weeks before the start. The first meeting is Jan 6, the final evaluation and online graduation party is going to be March 10. The whole program takes about 10 weeks.
Who makes decisions on who participates?
You, and we. We will treat your interest as a proposal. If we have concerns, we will address them and work with you.
Please note that as soon as circles are up and running, circles decide about their circle membership. This means that in theory, there is a process of excluding a circle members if the circle's aim cannot be reached with that circle members. Sociocracy has a process around that, because sociocracy protects the individual and the group. (This has never happened before.)
What happens after I graduate from SoLT?
By the end of the program, you will know us well, and we will know you. You will know each other. Anything can come from that. On a more formal basis, we host sector-based and general practice groups.
Also, you will make connections with other participants which we assume you will keep up.
We are happy to give you a certificate if that is of use to you (for instance for your employer).
Where do I get help when there is a problem?
We will help you if there are interpersonal and SoLT-related issues. We will help you if you want to make contact with someone in the sociocracy world or with an organization that runs on sociocracy for case studies. We will help you if you need access to SoFA knowledge.
However, we consider it not a good use of our time to be fixing your computer issues. If you need someone to help you with zoom, email or google drive, please find a trusted helper near you.