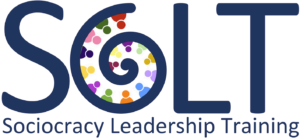 SoLT is an innovative training program where you can experience what sociocracy feels like by doing it. SoLT (Sociocracy Leadership Training) is our favorite training, and it prepares you to be part of a sociocratic organization.
How it works
SoLT consists of 14 two-hour meetings over the course of 9 weeks:
6 circle meetings — SoFA assembles 5-6 learners into a circle. They meet using the sociocratic process to work on a shared project, for example by interviewing and writing up case studies about a sociocratic organization. An experienced trainer is present at every meeting to support the process, provide resources and connections.
3 Reflection sessions — questions and answers in small groups where you can ask questions that come up in your context.
Each participant is expected to work on their circle's project (ca. 1h per week) and to engage with content about sociocracy (ca. 1h per week). Participants might choose to hold additional meetings to work on their project.
This is an online sociocracy class, i.e. all the meetings and training happen online (on zoom). You can join from wherever you are. The participants are typically from all over the world.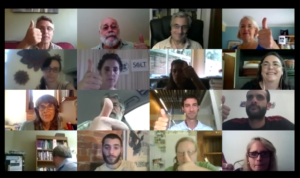 How much does SoLT cost?
Sociocracy For All is committed to affordability. We understand that the same dollar amount can mean very different value depending on your country of residence, your income, class and your family situation.
We offer SoLT on a sliding scale: $220-440. We ask organizations to pay on the higher end so we can give out scholarships.
No one is turned away for lack of funds, and we determine the price for the training together with you in our online interview. Although we do have some flexibility, we expect everyone to stretch just enough to make this training viable for everyone.
When are the meetings?
We pre-set the meeting times for each circle. Each SoLT is a bit different so we can serve different scheduling needs and time zones. SoLT 8 is geared towards US time zones, Asia and Australia. SoLT 9 is geared towards the US and Europe. 
You need to be able to make all circle meeting of one circle (either circle 1 or circle 2 or circle 3) and you need to be able to make the Full Circle meetings and some of the reflection sessions.
SoLT 8 (US, Asia and Australia)
Click on the links below to see the time in your time zone. Pick one meeting time for your 6 circle meetings:
And make sure to reserve the time for the 5 Full Circle meetings and 3 reflection sessions.
SoLT 9 (US time zones, Europe and Asia)
Click on the links below to see the time in your time zone. Pick one meeting time for your 6 circle meetings:
And make sure to reserve the time for the 5 Full Circle meetings and 3 reflection sessions.
We'd love for you to join us!
How to apply
Fill out this form. Make sure your email address is correct!!
You will be prompted to book a video call with Jerry. In that onboarding video call, you and Jerry will talk about your interests, experience, and availability so the SoLT team can place you in one of the working circles. You and Jerry will also determine your fee for your participation together.
We receive your downpayment of $30 and we reserve your spot. We expect your full payment 2 weeks before SoLT begins.
You'll get to know your peers, get access to all the files you need and the zoom link to participate in your first meeting.
Why SoLT is an extraordinary experience
SoLT is real. Participants have real meetings, real policy, real output, real relationships. The best thing is that you work together to create new content for others. A win-win-win for everyone: you learn in meetings and in work in between meetings. You learn in your group, and in working on your circle project, you pass on new insights to the next generation of learners. The culture of Sociocracy For All is genuine, real, kind and authentic. See for yourself!
This video was made with original footage from the first round of SoLT, and it gives a wonderful expression of what SoLT feels like. We have taught SoLT seven times, we have never canceled a training. In each of them, we have been excited by the companionship of like-minded people.
The center of your attention will be your circle. You will attend meetings of your circle. Possibly, you will serve as leader or delegate of your circle for some or all of the time and attend general circle meetings during your term. In your circle meetings, you will coordinate tasks and make policy decisions together using sociocratic principles. You will select circle members for roles, and you will measure, evaluate and give feedback.
The training format is explained in this video:
What other requirements are there?
English as a spoken language — you need to be comfortable enough to participate in a meeting.
A good enough internet connection and equipment to participate in a video call. Zoom works on tablets and smartphones. (For regular meetings, a computer is best because you can see the agenda or other documents the circle is working on in a separate window during the call.)
This is an intermediate program so we assume that you have some knowledge about sociocracy. If that is a concern, we can point you to good materials to study before SoLT starts. We can talk about that in our onboarding interview. SoLT dove-tails best with ELC, our 6-session video-led study group curriculum for groups.
What happens after I graduate from SoLT?
By the end of the program, you and we will know each other well. You will know each other. Most groups bond really closely – some meet beyond SoLT. We stay connected with the vast majority of graduates, and about 1/3 of SoLT graduates join SoFA as members are start working with us.