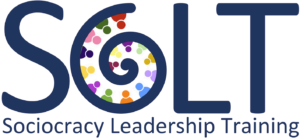 SoLT is an innovative way of learning sociocracy. Think of it as an immersion program in a 'pop-up' organization. SoFA provides the framework for that organization. That way, people interested in sociocracy can join SoLT and learn by doing what sociocracy feels like.
Imagine you wanted to learn rowing – and then you attend a workshop where you never sit in a boat. This is different in SoLT. We provide boats for people so they can learn and do and practice at the same time. We're right next to you for every step, while you grow more and more confident and skilled. All the meetings and trainings happen online (on zoom) – you can join from wherever you are.
Within 10 weeks, we will tell you what you need to know to be part of a successful, well-grounded sociocratic organization. See the meeting dates for SoLT 2 (full), SoLT 3 and SoLT 4 here:
Meeting times SoLT 2 (Jan 6-Mar 10, 2017) (This program is full!)
Meeting times SoLT 3 (Feb 24-April 28, 2017) (2 spots in case study circle available, email to info@sociocracyforall.org to register)
Meeting dates SoLT 4 (April 14-June 16, 2017) (email to info@sociocracyforall.org to register)
SoLT 5 (Sept-Nov, times to tbd) There will be no SoLT cycle over the summer! You can send us an email to get on the list for SoLT 5.
If you'd like to understand the training format some more, see this video. The one below is a little documentary about SoLT (cycle 1). You will be able to see how much FUN is it to learn about governance and to work together in a group of committed, competent and compassionate people.
Please see this page for more information before you contact us.