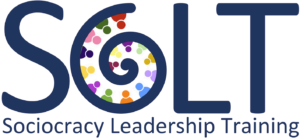 SoLT is an innovative way of learning sociocracy. You can try out sociocracy yourself, in online groups that we provide. Think of it as an immersion program in a 'pop-up' organization.
People interested in sociocracy can join SoLT and learn what sociocracy feels like when you actually do it.
[Read below and apply for SoLT here.]
Imagine you wanted to learn how to row – and then you attend a workshop where you never sit in a boat. You would not know what rowing is supposed to feel like and sound like. It is the same in decision-making: the flow and feel of sociocracy is very different from 'debate style' meetings.
In SoLT, we provide 'rowing boats' for people so they can learn and do and practice at the same time. We're right next to you for every stroke, while you grow more and more confident and skilled.
SoFA provides:
the online meeting space
training
all materials
reflection sessions
community.
This is an online sociocracy class, i.e. all the meetings and training happen online (on zoom) – you can join from wherever you are. SoLT is affordable: $220-440 on a sliding scale. We ask organizations to pay on the higher end so we can give out scholarships to individuals that cannot afford a $220 training.
Within 9 weeks, we will tell you what you need to know to be part of a successful sociocratic organization. 
"SoLT training was a wonderful experience, enlightening on several levels. I loved learning with people from all over the world. I loved learning through immersion. Jerry and Jennifer have created a unique and valuable experience I highly recommend." Pare Gerou, participant of SoLT3, 2017.
The whole group (all participants) Full Circle are meeting for lectures/community and for reflection sessions.
You will pick one focus circle with 6 sessions each:
Organizational structure circle: This circle will learn how to design circle structures in sociocracy. You will practice with organizations of your choice and give each other feedback.
Case study circle: This circle will write case studies about existing sociocratic organizations (like these)
Facilitation research circle: this circle will focus on facilitation; you will analyze meeting recordings of sociocratic meetings to dive deeper into that topic.
Training dates
SoLT 8
This SoLT course has meeting times that work for people in all US time zones, Asia, and Australia.
How to find your time zone:
Every participant is part of one work circle (Wed) and the whole group meetings (Thursday).
SoLT 9
This SoLT course has meeting times that work for people in all US time zones, Europe and Asia.
Every participant is part of one work circle (Wed) and the whole group meetings (Thursday).

How to apply
Fill out this form. Make sure your email address is correct!
You will receive an email to book a video call with us. In that onboarding video call, we will talk about your interests, experience and availability so we can place you in one of the working circles.
You pay the amount you and we consent to (between $220 and $440)
You receive all the necessary information to start the training.
You'll get to know your peers, get access to all the files you need and the zoom link to participate in your first meeting.
How SoLT works
These two videos give the best overview over SoLT.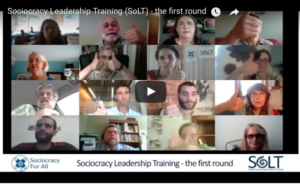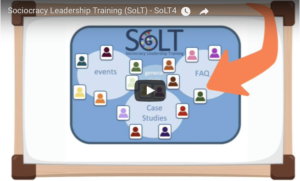 Below is the organizational structure of SoLT. Three work circles of 6 members each do work together to carry out the circle's aim. The circles always change a bit, depending on what fits into the bigger picture of where SoFA sees need and interest.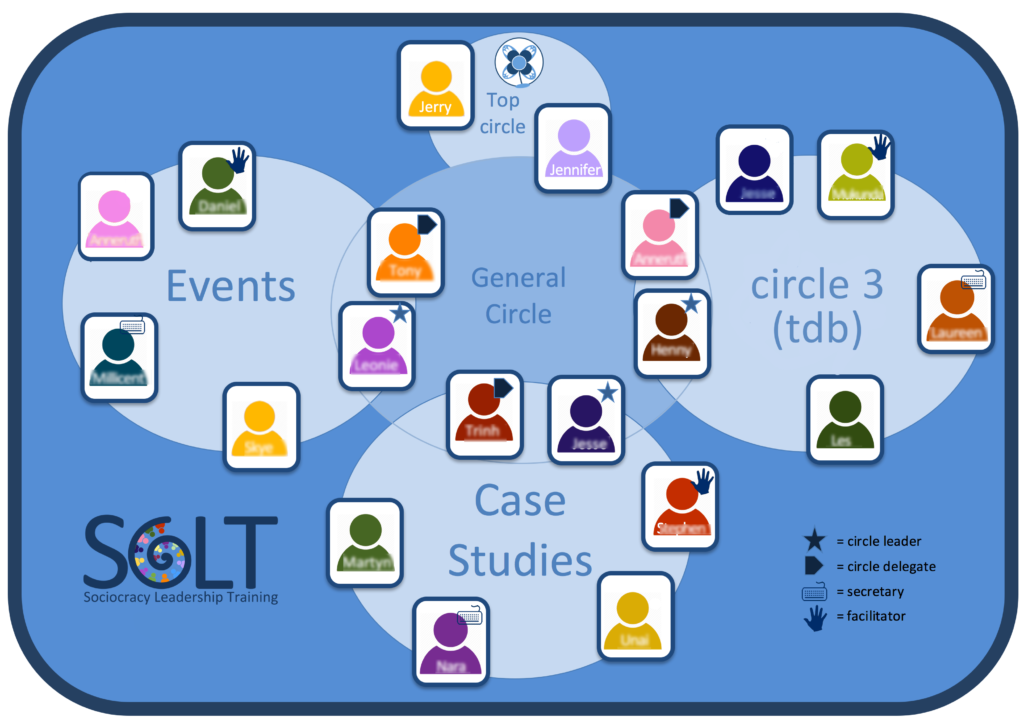 SoLT is real. Participants have real meetings, real policy, real output, real relationships. The best thing is that your work together to create new content for others. A win-win-win for everyone: you learn in meetings and lecture, you learn in your group, you pass on new insights to the next generation.
You learn by doing/reflecting
You learn in lectures (Full Circle and reflection sessions, plus a lot of content made available to you)
You learn by reading and preparing the content of your circle, and all your content will be passed on to the next generation of learners! That means you support the movement towards healthy power by joining SoLT.
Every participant will be part of at least:

5 policy decisions
4 selections
2 policy evaluations
14 meeting evaluations
20+ consent rounds (incl. processing objections)
14 meetings over 9 weeks.
The center of your attention will be your circle. You will attend meetings of your circle. Possibly, you will serve as leader or delegate of your circle for some or all of the time and attend general circle meetings during your term. In your circle meetings, you will coordinate tasks and make policy decisions together using sociocratic principles. You will select circle members for roles, and you will measure, evaluate and give feedback. There will be Full Circle meetings ("lecture"), attended by everyone in the circles with special trainings just for SoLT members. There will be General Circle meetings in which the leader and delegates of the three circles will coordinate the works that the circles are doing, and operational meetings in which only SoFA and the leaders of the work circle will do a quick check-in. You might be in on of those meetings if you get selected as leader or delegate of your circle.
What other requirements are there?
The time you put in will fluctuate over time but will likely add up to 36h for the project spread out over 9 weeks. Half of this time (18h) is meeting time, including online trainings and evaluation etc. The rest is work between meetings, like emailing and writing or planning with a subgroup. (This equals to 2 weekend workshops (4x8h), or about 3h per week over those 10 weeks.)
We ask that you make an effort to respond to email within 2 days.
It is easier to contribute if you are comfortable reading, writing and speaking English. (Typically, only about half of the participants are native speakers of English.)
This is an intermediate program. We have to assume that you know the basics of sociocracy. We will talk about that in our onboarding interview, and we can point you to resources to catch up. The introduction that dove-tails best with SoLT is to go through the study group curriculum with a few friends.
If you need a scholarship, fill out the form and add it as a comment.
If you are nervous about something, you can watch a recording of a real SoLT meeting. That will show you what meetings are like. (Please be aware that those meetings were not meant to be a training video. It is just normal run-off-the-mill meetings, authentic situations, with normal learning moments and the usual fun.) Email Ted to get access.
What happens after I graduate from SoLT?
By the end of the program, you and we will know each other well. You will know each other. Most groups bond really closely – some meet beyond SoLT! SoLT is also the entry to what we call "big SoFA" — a volunteer organization that has standing circles of sociocracy fans working on personal development, sectors, content and community events. About one third of SoLT graduates become permanent members.
Express your interest in joining SoLT by filling out this survey.