Here is what we offer. We want every organization to be able to learn and implement Sociocracy. Therefore, we offer Sociocracy workshops at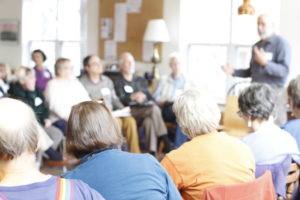 an affordable price. But we need your help to do that. Here is the idea. A weekend workshop costs $2,000. If this is no problem, then go here and leave this offer for those who need it.
If your organization cannot pay $2,000 for the workshop, then consider this option:
Sociocracy For All pays $500 from the general fund
$500 your organization raises*
We come in and train your members or your staff in a 2-day workshop in your venue
The remaining $1,000 you raise by opening your workshop and doing outreach so you get paying participants from outside of your organizations. We don't tell you how to do that because you know your audience best and we want this to be fair. If you advertise among low-income audience, then charge them less but try to find more paying participants (like $50 each, inviting 20 outside participants), or raise more money as an organization. If you have more resources among your participants, then ask for more. We like sliding scales because people know best what they can pay.
We are flexible. If your organization really wants this, we can make it happen.
So you think this sounds good? Here is what we cover in a 2-day workshop.