You have the keys to peace on earth, or at least more harmonious egalitarian organizations (Dennis, a SoFA supporter)
We know that sociocracy can make a valuable contribution to the culture change that is needed in our society. We want to work towards a world where organizations care about people, planet and purpose. The centralization of capital and power is part and root of the problems our society is facing. The organizations which are going to push the culture change are the organizations that are on the margins and underfunded now.
It is people-power that will make the difference. Therefore, SoFA is funded through donations. All our content is published under a creative commons license, which means that we won't sell the content but instead will always make it accessible to the public.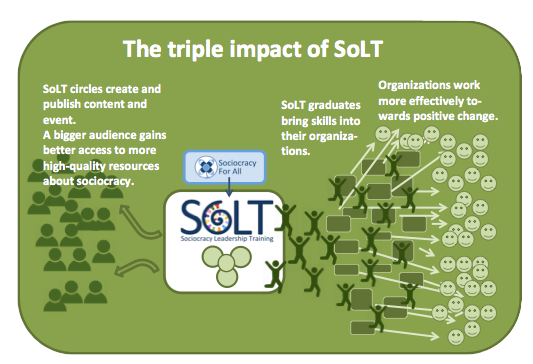 If giving donation is something you can do, we would appreciate that. Here is how your donation will have a quadruple impact:
SoLT participants will learn how to use healthy power effectively
Through SoLT, 18 people will carry their skills and their into their organizations and become multipliers, possibly having a positive impact to 18 or more organizations.
All of those organizations, who also work towards a more just economy, will do their work more effectively while implementing what it takes to make a culture chance right in their organization.
The content that is created in the circle work and the event will be accessible to the public for free. More people will have access to resources that help them make changes and work effectively.
On top of that, every SoLT circle will increase the number of people who are aware of sociocracy, therefore increasing the impact a knowledge-base will have.
To donate, please use the donate button in the top right hand corner of our website. The cost of every SoLT cycle is about $5,000.
See the SoLT intro video here.