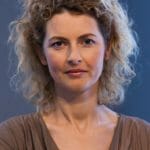 I am a practitioner and promoter of selforganization at work. I am a business consultant, trainer and coach. My mission is 'to build bridges' between traditional management and innovative governance based on participation. My great respect for achievements and strengths of traditional business comes from my 20 years of experience in corporations and consulting. I specialized in customer experience, large scale transformation programs, strategy and management consulting for telecoms.
My passion and commitment to share the innovative governance systems come from the belief that good communication and collaboration of people working together is key to better future of societies and our planet.
My toolbox includes mastering of Sociocracy (classic and S 3.0), solid grasp of Holacracy, perfect understanding of organizational development processes, well internalized non-violent communication, continuously growing coaching abilities, strong facilitation practice and talent for conflict resolution.
I approach organizations with attentiveness to their needs and uniqueness. I do not provide fit-to-all solutions. I rather assist in their own journey offering a helping hand, objective, yet experienced, perspective and advice, richness of inspiring and effective methods for trying out.
Privately I am a mother of two magnificent teenagers and a wife of a handsome engineer. We live in a forest near Warsaw.
Information
Location: Zalesie Górne, Poland
Circles: Training Circle
Certifications: Certified Trainer
Price Range: $-$
Services:
Contact:
Email: [email protected]
Website: http://www.centrumsamoorganizacji.pl/
Facebook: https://www.facebook.com/irena.kaszewska
Instagram:
Twitter: