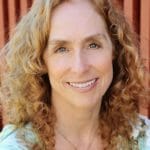 Known as a way-shower on the path to wholeness, Bernadette supports change-makers and their organizations navigate the choppy waters of volatility, uncertainty, complexity and ambiguity (VUCA). Her motto is, "You can't have power-with unless you have power-within". By bridging Sociocracy and conscious self-leadership, she helps teams co-create together in a healthy, empowered, and productive way.
She draws upon her diverse business experience as CEO of an international start-up providing global sustainable wood sourcing and furniture design, Founder of a wisdom school for pre-adolescents and Sr. Marketing Analyst for Honeywell, Inc. As an advanced Energy Psychology practitioner and Generative Dialogue Facilitator, her coaching and consulting masterfully integrates the healing of the individual and the collective.
In 2013, Bernadette moved with her husband and two daughters from the U.S. to Portugal. It was a conscious move toward creating a life that felt more aligned with her family's values and their desire to live more sustainably. Her work is driven by a burning desire to assist in the transformation of the old organizational systems that no longer work and to support leaders and teams in becoming more human-centric, self-sustaining and to thrive in this time of great change on the planet.
Information
Location: , Portugal
Circles: Member
Certifications: Certified Trainer
Price Range: $-$
Services: