This page is also available in:

Español (Spanish)
Sociocracy articles and videos
What are you interested in?
Majority rule creates winners and losers. It breaks us apart rather than bringing us together. Majority rule becomes a game. The focus is on winning not on the ideas. The focus is on who is ahead in the race not on what is healthy for the people. False scandals, voter...
read more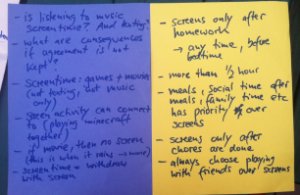 Family meetings are a wonderful and easy way of giving (your) children a voice. In family meetings (just like any other time almost), they can learn what it means to be heard and taken seriously. If you have never tried it, give it a shot!
read more