About Biblioterre
Biblioterre is an intentional community that aims to offer affordable and low-impact housing, grow healthy food, create permaculture gardens, offer workshops & classes, and support initiatives that bring ecological and social benefits to the greater community. Inspired by the concept of a "land library", they intend to share the Land and resources with each other, nature, Indigenous communities, and the wider community.
Beginnings
Biblioterre was dreamed up by Kelsey and Rob, who wanted to live according to their values and create a space that reflected how they wanted to live. They wanted a place that would treat humans, other species, and the earth with kindness and respect. They brought together different friend groups and individuals that had expressed an interest in being involved in a land collective and began to explore how they might work together to create a space where they could work together in the community. 
Groups in the Wakefield area were already using Sociocracy, and it aligned with the values and vision of Biblioterre, so Biblioterre began formally putting it into practice in 2019-2020. 
Sociocracy Integration
Integration has gone well, and Biblioterre has overall received 100% positive feedback on the structure from members. The group finds that rounds work very well, and clarity of roles, decision-making by consensus, and the sociocratic framework for conducting meetings help empower new members of the group to lean into learning the process. They have found that members who are part of Biblioterre and other efforts in the community (climate change, community centers, etc). are also beginning to implement sociocratic practices into their other groups as well. 
In addition to the framework of sociocracy, Rob and Kelsey find that the practice of roles is not only effective in terms of clarity and efficiency within one circle but once a member gains experience in a particular role they are able to transfer that skill set to any other circle that they participate in. The skills of just participating in sociocratic meetings (minutes, rounds, etc) are transferable as well, which also supports the growth of other circles and spreading sociocracy as a practice throughout the community.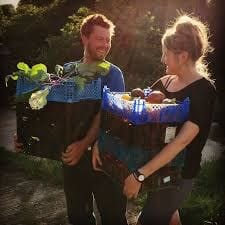 The challenges they have faced in implementation include the learning curve of staying on task during rounds, but it improves as they continue to practice and receive more training. They hope to focus on more social interaction and getting to know members outside of meetings once COVID quarantine has been lifted so that they can deepen their relationships with members outside of meetings. 
In addition to the implementation of sociocracy, Nonviolent Communication(NVC)  training is a requirement for all new members and must be completed with their first year of membership. Kelsey and Rob feel that NVC is a natural component of sociocracy, and having that skillset greatly enhances the quality of communication within their meetings.
Current Implementation
VMA
VISION: 
Biblioterre is a land library cooperative aspiring to demonstrate ecologically sustainable and equitable ways of living, with respect for inherent Indigenous sovereignty and cultural revitalization, and with responsibility towards all life on earth.
MISSION: 
To provide a land base for projects that are aligned with our vision while helping people to explore their role in nature. We plan to purchase and manage a parcel of agricultural and forested land for the benefit of the land itself, the co-op's members, and surrounding rural and urban communities. We will create a safe space for all animals and humans, regardless of race, gender, ability, sexuality, ethnicity, class, and age.
AIMS:
We intend to prioritize the needs of the land by engaging in ecosystem restoration, biodiversity protection and regenerative food production, while providing a venue for people to deepen their relationship with nature

We recognize and prioritize the interrelationships between a healthy planet, a healthy community, a healthy mind, and a healthy body. 
We aim to promote healing justice and address how generations of trauma, systemic violence, and oppression impact individual and community health. Indigenous Allyship 
We intend to seek consent and listen to the needs and feelings of Indigenous peoples, communities and individuals; to encourage Algonquin-led use of the land; and to seek collaboration and consent to evolve our community practices of Natural Responsibility.
We aim to offer various land-based resources to its members, such as an agricultural incubator program, affordable and ecological worker residence options, and an accessible network of tool and resource libraries
We aim to support all members to run their unique projects and businesses on-site. 
Creatively, we refer to the entirety of this project as a "land library". Equitability
Land Purchase Status
They are currently fundraising the final $4,000 needed to purchase the land. 
Governance & Circle Structure
We use Sociocracy for our governance & decision-making process. Our members are required to attend training in: 
Indigenous Cultural Competency,
Non Violent Communication
Biweekly meetings currently take place for General, A&A, Finance, O/P, Membership and Building circles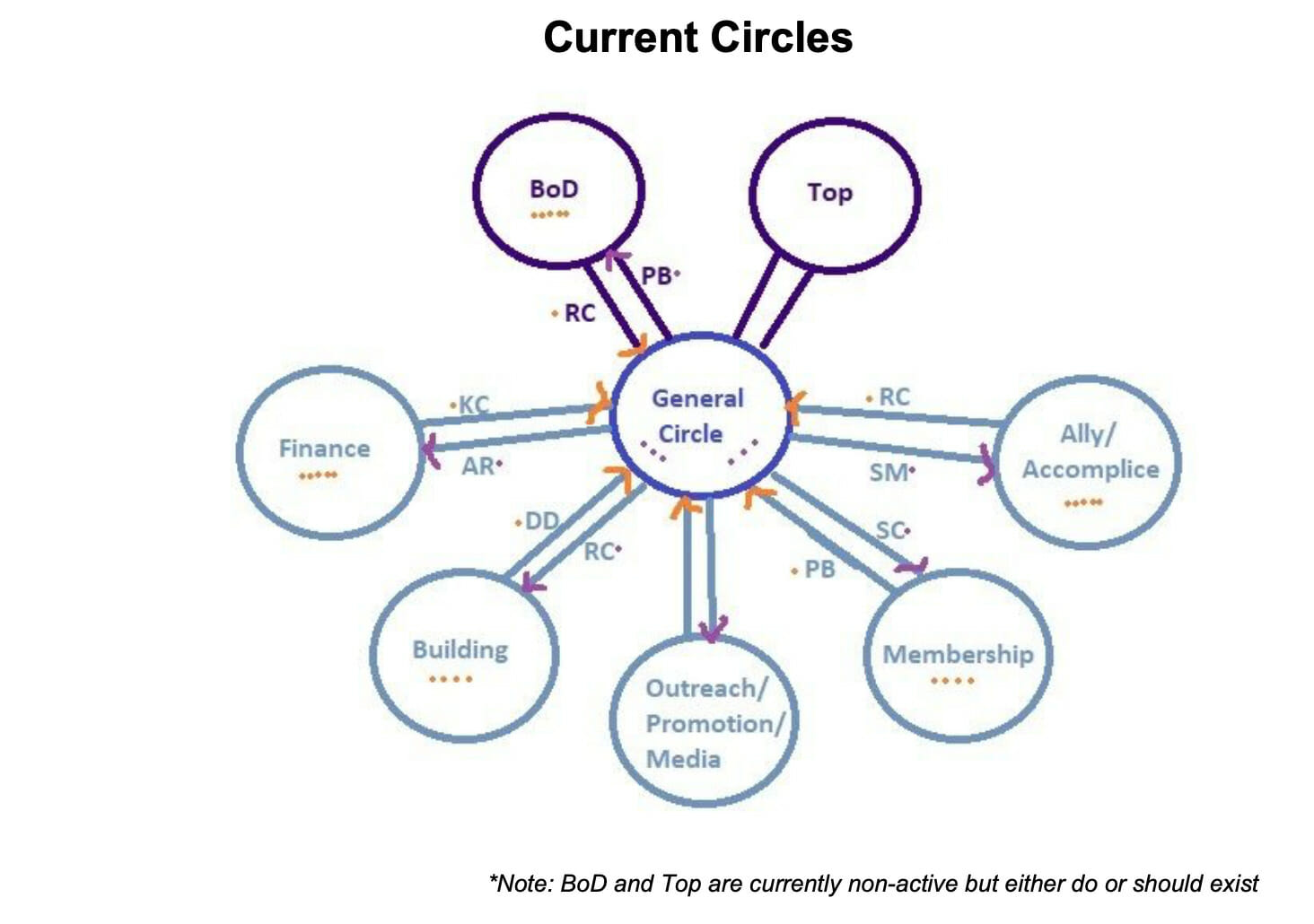 General Circle
Aim: ​To promote a flow of information between sub-circles in order to efficiently accomplish the long-term aims of Biblioterre. 
Financial Circle 
Aim:

​ ​To help Biblioterre meet its costs of operations and generate profits, and to direct its profits towards its pillar-based initiatives. 

Domain: 

Managing accounting needs of Biblioterre, including authorizing bills up to $500

Ensuring all payments are received and logged 

Balancing budgets 

Coordinating membership shares, start-up shares, and annual operations shares 

Coordinating Mortgage loan (receiving and payments), and other loans 

Coordinating member common's dues and usage fees 

Coordinating efforts for grants, crowdfunding, donations, fundraisers, etc. 
Membership Circle
Domain: 

Mediate between potential members and existing members of Biblioterre

Write membership documents

Update membership packages and the application process

Help potential members through the application process

Decide whether or not to approve new members, keeping diversity, finance, and capacity policies and goals in mind

Review memberships on an annual basis to ensure members are upholding agreements

File and update member information

Organize meet and greets between new and existing members

Help direct interested members to appropriate circles

Coordinate member volunteers

Ensure members have access to appropriate training and documents

Serve as a starting point for resolution of conflicts, and nominate an ad-hoc mediation circle if necessary
Outreach and Promotions Circle 
Aim: ​To organize events, workshops, presentations, and other activities for Biblioterre members, donors, and the greater community; and to promote anything in need of promoting.
Domain: 

Outreach and promotion (including social media & the website); 

Reaching out to new communities to encourage diverse membership; 

Ensuring there are regular events and workshops scheduled; 

Organizing and promoting events; 

Promoting items from other circles (for example, fundraising campaigns) 

Organizing the monthly newsletter (including coordinating contributions from other circles) 
Buildings & Upkeep Circle 
Aim: ​The building circle aims to facilitate and prioritize, from Biblioterre's interests to those of our individual members, all renovations, constructions and maintenance of all buildings and infrastructure on land managed by the coop.
Domain:

To facilitate the planning and permitry process of all immovables and infrastructure on land managed by the coop.

To create and uphold onsite code in balance between the needs of our environment, the coop, and those of our individual members. 

To act as liaisons between members and contractors where necessary. 

To remain up-to-date and in step with the UN's housing standards and those of 

our hosting municipality. 

To create scheduling for and execute regular inspections and maintenance of 

coop buildings and infrastructure. 

To reserve the right to inspect and make reports for community consideration on 

private and public housing of individual members at any time, with prior and fair warning, during the building process and at any point afterwards for the purpose of determining physical conditions, value, and/or general livability. 

When absolutely necessary, the building circle reserves the right to suggest and facilitate reparations and renovations to public and private housing of individual members, at the cost to be determined on a case by case basis, for the purpose of maintaining a healthy, safe, and/or comfortable standard of living within all coop housing. 

When and where possible, to research and create precedence for improvements to housing and infrastructural norms locally, and hopefully, some day, globally
Ally & Accomplice Circle 
Aim​: Using our privileges to become better allies and accomplices, to e​xplore and actively lift systemic barriers related to access to land, healthy food and reciprocal land relationships within Biblioterre.​ To respectfully support, coordinate and communicate with advisors and participants in the Algonquin land-return initiative.
Domain​: 

Serving as a space for communication, education, and conflict-resolution between Biblioterre and advisors and participants in the Algonquin land-return initiative, a.k.a the sovereign space; 

Facilitating any needs of the sovereign space at the request of advisors and participants; 

Writing and updating Biblioterre's "Diversity and Inclusion Policy"; 

Writing and updating Biblioterre's "Barriers to Lift" internal and external action document

Establishing and maintaining relationships with people ​who face systemic oppression and groups who are working to address these issues, and taking action in solidarity with these groups. 

Researching events run by marginalized groups facing systemic barriers, maintaining a calendar of these events on Biblioterre's website, and attending these events
Non-Active (Potential Future) Sub Circles of General Circle 
Rob and Kelsey find the current structure of Biblioterre is serving their vision but sometimes find that even with double-linking members can sometimes lack the "big picture" beyond their respective circles. Additionally, Biblitorre's rapid growth in interest and membership has caused some of the founding members to be in many of the circles and they find themselves in too many meetings. They are currently in the process of training new members and delegating other roles to reduce the time spent in each of the additional circles.
They currently do not have a top circle or a group focused on long-term vision and values while they are focused on finalizing the purchase of the land and meeting the short-term goals of their project. They are hoping that once they have secured the land purchase and can begin their work, their systems will get refined and they will have a streamlined process for onboarding new members. 
Community Living Circle
Aim: ​To encourage healthy communication and flow between members living and working onsite while promoting a healthy balance between shared spaces and privacy.
Domain: 

Managing community centre affairs, including community dinners and gatherings; 

Organizing and monitoring chores and cleaning tasks; 

Being a conflict-resolution resource for the community; 

Exploring rhythms of daily life​ ​on the land that nurture togetherness as well as privacy

Holding clear understanding of Biblioterre's vision, mission, policies, 

by-laws and agreements for the security and benefit of the organization and its membership. 
Events and Workshops Circle
Aim: ​To organize events, workshops, presentations, and other activities for Biblioterre members, donors, and the greater community.
Domain: 

Ensuring there are regular events and workshops scheduled; 

Organizing and promoting events (in tandem w/ Outreach & Promotions Circle); 

Ensuring all required trainings are happening on a biannual basis; 

Planning, at least, one annual fundraising event with a raffle (this includes 

coordinating raffle prizes); 

Organizing onsite tours
Libraries Circle(s) 
Aim: ​To make member-accessible libraries of different categories. To help onsite initiatives and businesses lower overhead costs to encourage innovation. To reduce individual environmental footprints through shared non-ownership.
Domain: 

Managing library spaces in a consistent fashion; 

Organizing for ease of use and access; 

Building and maintaining inventory; 

Operating database/record-keeping; 

Coordinating repairs; 

Publishing wish-lists; 

Ensuring new members understand how to interact with the libraries
Initiatives Circle(s)
Aim: ​To promote a flow of information and synergy between different pillar-based initiatives, so that Biblioterre may achieve all of its interconnected goals in balance.
Domain: 

Linking communication between pillar-based subcircles (i.e. Natural Responsibility Circle, Holistic Health Circle, Equitability Circle, Indigenous Allyship Circle); 

Making decisions that affect all subcircles; 

Deciding which questions and tasks belong in which domains (subcircles)
Leaseholds and Rentals Circle
Aim: ​To promote synergy between projects and project leaders in an equitable way for smooth sharing of time and space.
Domain: 

Managing leasehold and rental contracts with onsite, offsite, and non-members; 

Scheduling for leasehold and rental spaces; 

Making niche-design decisions to encourage non-competition; 

Promoting available leaseholds and rentals to help Biblioterre reach its revenue needs



Marketing & Outreach
To recruit new members, Biblioterre uses a multi-faceted approach. Using Goodworks ads, intentional community websites and word of mouth, they have had so much interest that they have had to freeze new membership for the time being while they finish the land purchase. They currently have two people managing their social media and promote Biblioterre via allies and accomplices who spread the word. They expect that this will change in the future as they plan to have an educational component – training, workshops (teaching youth how to farm and garden, for example) – giving back to the community will serve as a promotional tool as well. Because feedback is so core to the system of sociocracy, they feel that they are naturally able to listen to people and their needs and create Biblioterre to reflect those needs. As a result, people see themselves in the project and want to be involved.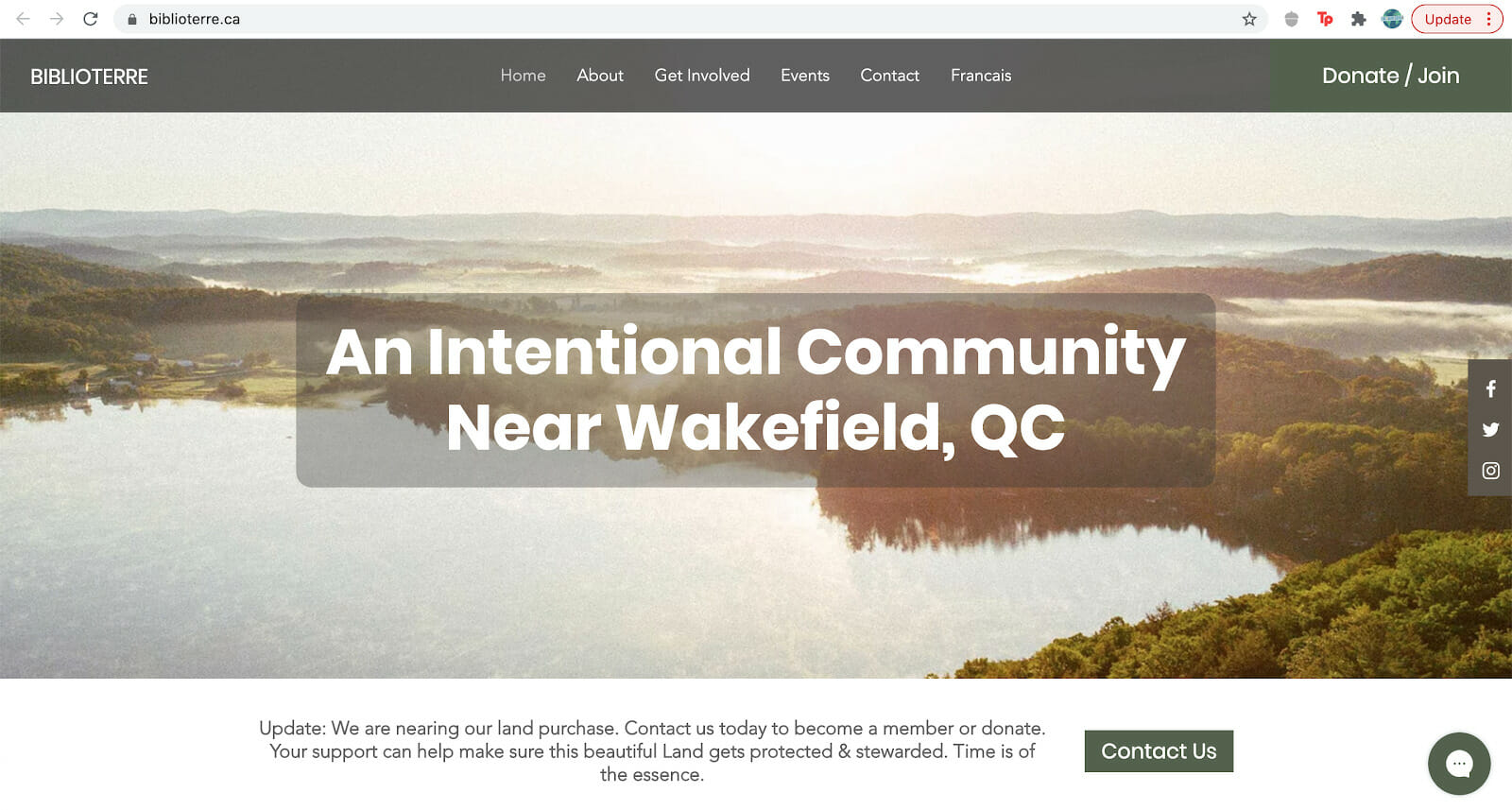 Newsletter
Aim: stay up-to-date with the progress and challenges of Biblioterre, which may open up doors to one's participation in the future.
Domain: 

Event invitations

Updates
Website
Aim: Introduction to what is Biblioterre.
Domain:

Captioned videos

Multilingual options: French and English

Descriptions in Photographs

Add more videos/photos of what it is about (less text) 

http://www.biblioterre.ca/
Aim: Diverse and Inclusive introduction to what is Biblioterre.
Domain:

Informational posts: What is Sociocracy, Freedom Dreaming, Decolonizing, Solidarity Economy.

Call to Action: donate for land purchase, urgent support for nearby communities.

Article sharing:

Defining White Privilege

, F

irst Women of Color Elected

,

Friendship,

and others by:

Democracy Now, The Atlantic, The Guardian, Aljazeera. 
Aim: Diverse and Inclusive introduction to what is Biblioterre.
Domain:

Personal content

Meet the Member: Weekly post introducing a member.

Anti-Racism posts directed to aid the The Algonquin,  Metis, Mohawk, and Ojibwa : Protest flyer, open letter, online discussions.

Informational posts: What is Sociocracy, Freedom Dreaming, Decolonizing, Solidarity Economy.

Call to Action: donate for land purchase, urgent support for nearby communities.
Youtube Introduction video
Explains why Biblioterres is a local solution to the crisis of capitalism. (Inclusive: Includes audio version as well as subtitles/closed captions.)
Algonquin Moose Moratorium Interview
https://rabble.ca/blogs/bloggers/views-expressed/2020/10/why-algonquins-protest-protect-moose
Written by Emma Lui, member of Biblioterre and co-founder of the La Pêche Coalition for a Green New Deal.
Activism under Capitalism
https://rabble.ca/blogs/bloggers/views-expressed/2020/10/why-healing-activist-burnout-essential-dismantling-capitalism
Written by Emma Lui, member of Biblioterre and co-founder of the La Pêche Coalition for a Green New Deal.

Future Planning
The goal of Biblioterre is to create an alternate society for people who want a way to opt out of our current colonial, capitalist system. While members will still need to engage with our current society, Biblioterre wants to focus its attention on creating a consent-based governance system that is very much in line with the Indigenous community (Algonquin) on whose land Biblioterre occupies. Members from the Algonquin, Metis, Kenienkehaka, and Ojibwa communities have worked with Biblioterre as advisers, and the dream is to continue to create a place where members can learn from each other's cultures, respect the earth, and create a more collaborative, cooperative world.
Case study by Danielle Stenger, Lee-Ann Holloway, Pamela Elizarraras