Key Concepts
Consent  The principle of consent governs the decision-making process. (Consent means no argued and paramount objection.) This means that a policy decision can only be made if nobody has a reasoned and paramount objection to it.
Elections  Persons are elected exclusively by consent, after open discussion.
Circles  The organization consists of circles of semi-autonomous groups of individuals. Each circle has its own aim and performs the three functions of leading, doing, and measuring/feedback. A circle makes its own policy decisions and maintains its own memory system through integral evolution.
Double Link   The connection between two circles consists of a double link. This means that at least two persons from one circle participate in the decision-making in the next higher circle: the circle's leader and one or more elected representatives.
History
Sociocracy is a new, socially responsible system of governance that originated in The Netherlands. Originally envisioned in 1945 by Kees Boeke, a Dutch educator and pacifist, as a way to adapt Quaker egalitarian principles to secular organizations, sociocracy allows us to give and receive effective leadership while remaining peers. Gerard Endenburg, a pupil of Kees Boeke and a highly trained engineer, developed Boeke's vision into a body of well-tested procedures and practical principles using his family's electrical installation business as a living laboratory. The company, still highly successful after 50 years, no longer has a traditional owner. It is the first ever "free company."
Today, a variety of organizations use sociocracy in The Netherlands, other European countries, Brazil, and the United States. They range from building and manufacturing companies, to health care organizations, to a public school system, and even a Buddhist monastery. It is part of the curriculum and practice of several Dutch universities and technical colleges.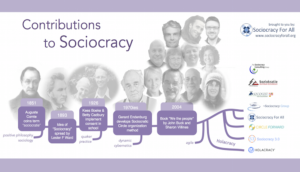 See our videos, resources and training formats