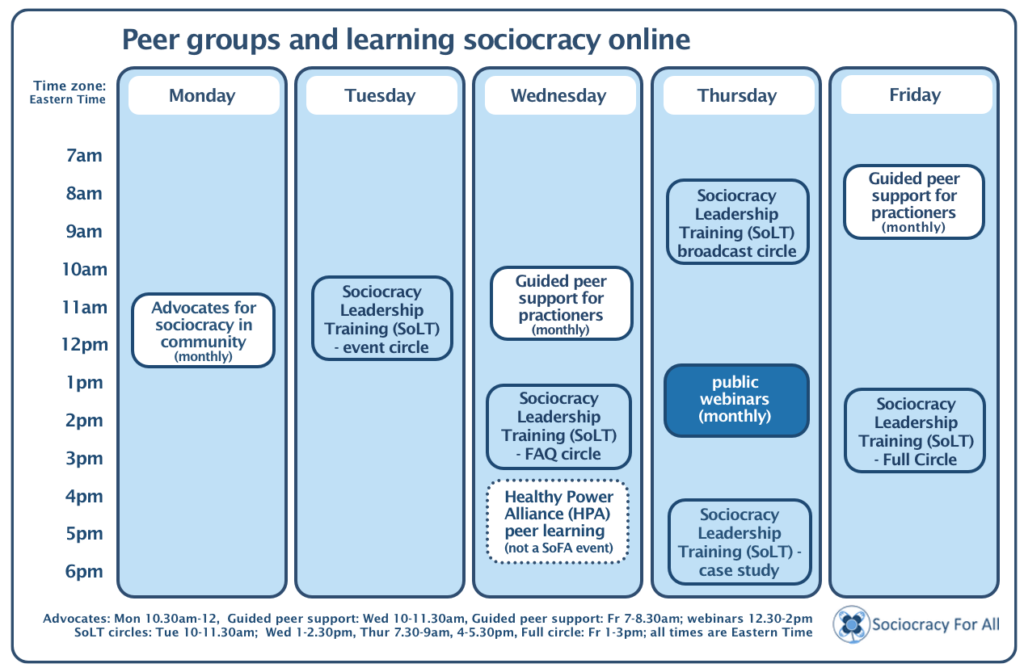 (Click to enlarge table)
Do you want to be part of a Peer Support Group to continue learning about sociocracy and it's implementation? Join one of our guided peer support groups:
The aim of the circles is mutual support in learning and implementing sociocracy.
The support groups are run sociocratically. The circle selects a facilitator. They make their agenda together and they consent to it.
Peer Support Groups have defined membership in order to build common ground and get to know each other deeply. To join them, new members need the consent of the group. (One can start as a visitor).
They give feedback, and they might make decisions. (If the circle thinks this is a good idea, they might review each other in a more formal way.) A support group will help trouble-shoot, motivate you to improve your governance, hold you (gently) accountable and in hearing their stories, provide a deeper understanding of sociocracy.
As long as this is desired, a SoFA member will be there to guide and support you. If after a while, your circle is ready to be a SoFA spin off, that's fine with us, and we'd be happy to support you from afar. This is a decentralized movement, and we want to empower everyone.
Requirements: Experience in working in a sociocratic group. Share the aim of the Peer Support Circle. Commit to regular participation.
If you are a beginner, this is not the right group for you. We recommend the Sociocracy Leadership Training to get up to speed in a learning environment for people with less experience.
At this point, we offer three of those peer groups:
Two guided peer support groups for practitioners, i.e. everyone who is planning to or already implementing sociocracy in their own organization.

One meets monthly every first Wednesday of the month from 10-11.30am EST.
One meets monthly every third Friday of the month from 7am-8.30 EST. (Good for early risers, but mostly convenient for anyone east of the US East coast.)
"Advocates for Sociocracy in community" meets every month Mondays 10.30-12 EST. All members live in intentional communities that run sociocratically or have some deep knowledge of sociocracy. At this point, this is a closed group.
Contact us if you would like to start a new group hosted by SoFA.

SoFA offers one webinar per month, Tuesdays 1-2.30pm. In 2017, we are inviting guest speakers to talk about their organizations. See the upcoming webinars on our workshop page. See the recorded webinars on our resources page.
This table also contains a learning opportunity through the Healthy Power Alliance (HPA) that SoFA supports. HPA puts on great webinars, check them out on their website!