You know sociocracy well or you are part of a sociocratic organization? Consider joining SoFA as a member!
Below is our organizational structure which will give you a sense of what we do. If you'd like to request membership, you can find all the information you need on the membership page.
Most circles meet once a month, or more often if members decide to.
Members looking for the SoFA phonebook, go this way.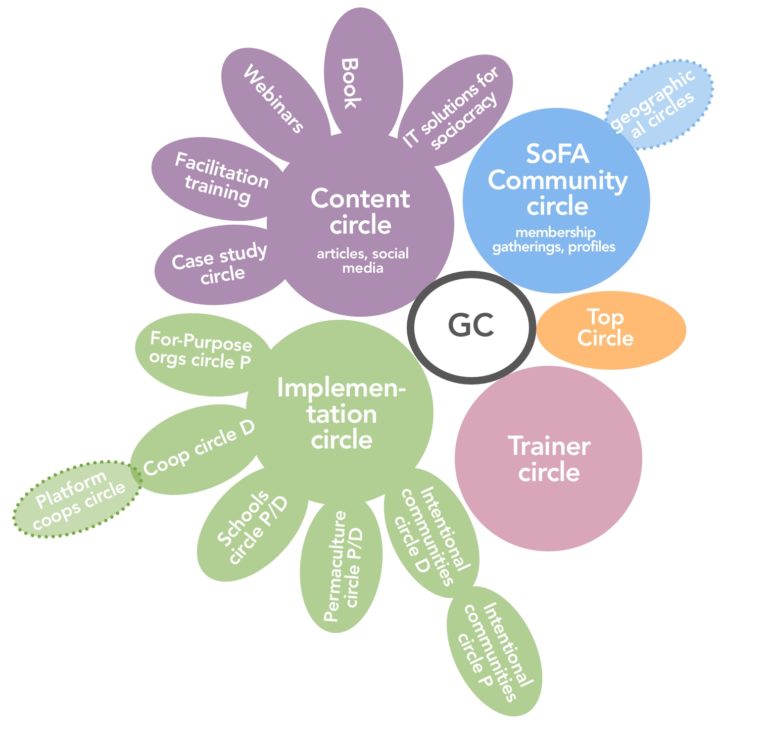 Circles' aims and domains:
Community Circle
OPEN, existing group
Building and strengthening a sense of community on a geographical level
Geographic circles
(some national groups are on their way to membership; talk to us if interested)
Building and strengthening a sense of community on a geographical level
fun event by area
membership by area
Content and Delivery Circle
CLOSED
Creating content and making the content accessible
website
presentation/visuals repository
SoLT
ELC
Facilitation training
CLOSED
Creating and running a training for facilitators
Proof-reading the handbook
running a crowdfunding campaign to support the book
supporting the publication process
webinar planning with Jennifer
eventbrite
IT solutions for sociocracy
OPEN, new circle
Providing information about IT solutions (loomio, asana, other) and their fit for sociocracy
Case study circle
OPEN, new circle
writing case studies of existing sociocratic organizations
Trainer circle
OPEN, new circle (for active trainers only)
Supporting personal development through mutual feedback and development plans
sharing training-related resources
training material repository on SoFA google drive
Individual personal development
Implementation circle
CLOSED
Supporting sector circle leaders and well- functioning of sector circles
Identifying cross-sector best practices and development/ training questions
Implementations
Sector strategies
For-purpose organizations circle
OPEN; new circle; practioners only!
Supporting implementations in for-purpose organizations (non-profits, social enterprises)
sector strategies
all materials related to for-purpose organizations
Co-op circle
OPEN, established gropu
Supporting implementations in co-ops
sector strategies
all materials related to cooperatives
Platform coop helping circle
OPEN; temporary interest group
exchange around platform co-ops
supporting implementations in schools
all resources and materials related to schools
Permaculture Circle
Temporarily CLOSED
supporting the connection between sociocracy and permaculture
all resources and materials related to permaculture
Intentional communities circle D
OPEN, new group (Promoters/teachers/developers only)
spreading sociocracy in intentional communities
all resources and materials related to intentional communities
Intentional communities circle P
OPEN, new group (members of sociocratic intentional communities only)
supporting implementations in intentional communities
all resources and materials related to the members' intentional communities
Membership benefits and expectations: be part of the SoFA family
The opportunity to contribute meaningfully towards a more just and resilient world.
To belong to a community of people who care deeply about equality
Network:

You will have access to a great network of people worldwide
You can start your own study group to build your skills
Community events/open, themed hangouts

Build experience and invest in personal development

Contribute in work circles
Take on roles, like facilitation
You can join the personal development circle and work towards certification
Visibility: with your consent, your name and bio will be on the SoFA website

Access to resources in our google drive:

Organizational structures swap
Training materials swap
Presentation materials swap
By-laws swap…
Video footage repository
Expectations: Giving your time, your money, your heart
Every working member joins at least one work circle (fixed minimum – 2h/month) and participates in work outside of meetings (variable)
$50 per year + a variable contribution
Intention to connect: give and receive feedback, engage lovingly in conflicts as they arise, communicate about your life and your progress and setbacks
SoFA meetings
All online meetings are open to visitors. Contact SoFA to visit a meeting. You can only have consent rights if you are a member of the circle and a member of SoFA.
SoFA salon (members only)
Upcoming parties for members: