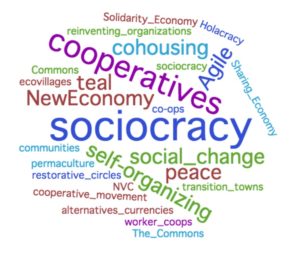 In SoFA, we connect with many people, and a fascinating area of feedback for us is to hear, "so, how did you hear about sociocracy?" One big trend we are noticing is that people are actively searching for alternatives to extractive businesses and control and demand, and they find us more quickly than we find them.
We made a list of areas and frameworks that we are aware of that have some overlap and some interest in sociocracy so far. We're excited to see how these ideas as a pluralistic movement are growing in followers, and how much overlap in cooperative values, processes and mindset there is between these concepts and sociocracy as a governance method and a way of relating to each other.
The list is not sorted in any kind. Think of it as the result of brain storming. We would say that 98% of the people who approach us come from one or more of the contexts in this list:
Agile, scrum
Commoning/The Commons
self-organizing teams
New Economy
Sharing Economy
Solidarity Economy
cohousing/eco-villages/intentional communities
Holacracy (based on sociocracy)
teal organizations/reinventing organizations
NVC (non-violent communication)
Dragon Dreaming
transition movement
alternative currencies
restorative justice, restorative circles, peace-making circles
cooperative movement, worker co-ops
permaculture
platform cooperatives
social justice
That's such a long list! All of those incorporate so much wisdom and innovation, and we're proud to be a part of this change towards a collaborative future.