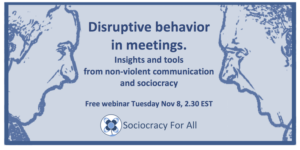 If you tend to roll your eyes or bite your tongue in meetings, this webinar will give you options that actually improve the situation.
How do we deal with members of the group that
interrupt other people
are hard to work with
seem to make everything about themselves
Non-violent communication offers communication skills that will help everyone in the group speak their truth in a constructive way. Sociocracy, as a way to organize groups and with consent decision-making offers a framework that balances the needs of individuals and of groups and supports the productivity of teams without ignoring anyone in the group.
This webinar is free. More info and registration here. We can only accept 49 participants, on a first come first serve basis.